Went to the Sox/Yanks game on Wednesday

Best thing that happened to me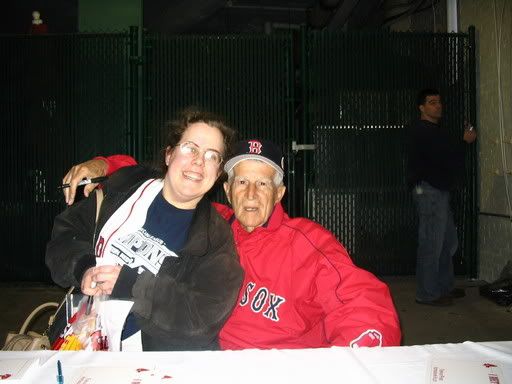 Dear Red Sox,
Please stop giving your manager chest pains. Even a win like last night can't be good for his health.
Love,
Me.

Dear Tito,
I'm glad you're feeling better Maybe you should just turn the TV off in the seventh or so and just meditate. Breathe in. And out. In. Out. In. Out. Doesn't that feel better?
Love,
Me.

Dear Edgah,
Please hit.
Love,
Me

Dear DLo,
I hear you're coming back for the ceremony on Monday. Thank you. You need some appreciation in person, Mr PostSeason.
Love,
Me.

Dear Mr. Old Yankee Fan,
Remember how you came in yesterday morning and made fun of my Red Sox starting pitching? I didn't see you this morning. Too bad.
Love,
Me.

Dear O's,
Thank you for last night. Now can you do to the Yanks this year what you did to us last? And maybe give us a break.
Love,
Me.

Dear Boomer,
Well it was an improvement. Keep it up. At this rate, you could win next start.
Love,
Me.

Dear Mr. Mills,
Give us more of a chance to love Boomer. Only 70some pitches?
Love,
Me.

Dear Papi and Horny,
Don't do anything different.
Love,
Me.

Dear Tek,
I don't care what they say. I love the C. And keep up the good work.
Love,
Me.

Dear Jays,
:-P
Love,
Me

Terry Francona out of the hospital.


Team physician Dr. Thomas Gill said Friday that tests showed no evidence of a serious heart problem and that Francona's chest pains probably were caused by "a recent viral illness."

"He will be monitored over the weekend by the Red Sox medical staff, and should be ready to return to the bench on Monday for the team's home opener," Gill said in a statement. "He is in good spirits, and is extremely eager to return to the team."
And I was thinking about a long involved rant in another post, but this says it better than I probably could.
Media bad, tree pretty
I got yelled at by a Yankee fan today.

I was at work and a elderly female (and huge sox fan) coworker of mine came up to me and asked me who was starting tonight. "Arroyo," I told her. "Good," she said. And before she could say anything else this OldMan (tm) in a Yankee hat came up to us and started wagging his finger and yelling that the sox "had the worst starting rotation in baseball and how did we feel about our hero now that he was getting knocked around by minor leaguers and how we had just gotten lucky and how before that we hadn't won in 75 years [blogger's note. jeez if you're going to give a diatribe, get your facts right] and we could only win once a century and we weren't going to win for another 75 years and WHERE WERE WE GOING TO BE THEN!!!???*" And I smiled ever so sweetly at him and said "Alive."

He didn't have much to say about that. And wandered off still muttering. He was just sooooo defensive about it all. So. Funny. And hey! I was nice! I didn't start making chocking noises or anything.

I giggled to myself about it for hours after. I'd heard about other Sox fans having these encounters, but this was my first. I've been deflowered. . . Cool.




My how things have changed.

It wasn't long ago that Rivera coming into the game meant the end. Game over. It all started to change mid last summer (say July 24), even if we didn't know it yet. It was a shock when Mueller hit that walk-off homer. So much of a shock I called my father to scream "THEY WON! THEY DID IT! WOOHOO".

Then came that September game and "catch the ball". Hmmm

Then the post season. We all remember that.

Then April 5th. Rivera came into the game. And my first thought was, we have a chance. And Tek took it. Of course then Rivera held the line, and the Sox lost in a walk-off homer in the bottom of that inning.

Then April 6th. Sox down by one. Enter Sandman. And I went "Yes! Here we go!" And there the Sox went. I even had a friend call me on my cell in the middle of that inning crowing, "Now he's the fruitless bat!"

There is no more dread for me in the ninth inning of a Sox/Yanks game. And the Red Sox are the defending world champions. I like this new world of ours.

NEW YORK -- Boston Red Sox manager Terry Francona has been taken to a New York City hospital after complaining of tightness in his chest.

A team spokesman said Francona, 45, was taken to Cornell Medical Center for "precautionary reasons." He will miss today's game between the Red Sox and Yankees. Bench coach Brad Mills will serve as interim manager.

Sox general manager Theo Epstein said he was taken to the hospital by ambulance for what he called "precautionary testing." Francona was accompanied to the hospital by Sox trainer Jim Rowe.

Mills told the media he spoke to Francona at the hospital, and said the Sox manager told him "he feels OK."

Francona suffered life-threatening blood clots following arthroscopic knee surgery in November 2002. He was in Seattle interviewing for the Mariners' managing job when he experienced severe chest pains.

"I got off the plane and thought I'd had a heart attack," Francona later told The Boston Globe.

Doctors prescribed blood thinners and the problem was thought to be under control, but complications developed. He had staph infections in both knees, then developed serious hemorrhaging in his leg. He was hospitalized for more than a month and ultimately underwent eight operations.

"With the circulatory problems that he's had in the past, they (the doctors) want to make sure things are checked out a little bit more and I think they might be a little bit more cautious with him ...," Mills told the media this morning. "I think we'll just wait and see what happens and we'll get more news as the day goes."

Mills also said Francona fell asleep on the bus ride over to Yankee Stadium this morning, and said Francona told him, "I don't feel very well."
From what the Sox say, he seems to be in good spirits.
Win today for Terry, guys.
What I liked about yesterday's game

1) Matt Clement pitched ok. Kept them in the game, didn't seem to get rattled. If not for that error and botched DP, his line would have looked better.

2) Tito's management of the bullpen. Perfect.

3) The bullpen. Almost perfect.

4) Mike Myers making Matsui look foolish. OK, he eventually got a bloop. But damn did he look silly before that.

5) We're starting to hit.

6)We're starting to hit for power
.
7) Making Rivera blow Yet Another Save. I actually thought, when he came in, oh good, we can get him. Great feeling. And it was ALMOST a loss potential, if JD's ball had just traveled a few more feet.

8) Millar's defense. Some *great* places. That 3-2-3 DP was a thing of beauty.

9) Our Captain Clutch.

10) Mark Bellhorn's line - On base twice/Two K's. That's so Bellhorn.

11) The Stienbrenner-Cam. Did you see the look on his face in the top of the ninth? Priceless. First the Pickle-face(tm). Then the dismissive hand-flap. Then the pasty-white jawdrop. Great stuff.



Things I didn't like so much.

1) The loss (duh)

2) The lineup. C'mon, Tito, drop Edgar down the lineup at least until he gets over his nerves or whatever they are. Stick Bellhorn back in the two-hole maybe? That seemed to work ok last year.

The lineup I'd put out.
Johnny Damon
Mark Bellhorn
Manny Ramirez
David Ortiz
Kevin Millar
Trot Nixon
Jason Varitek
Bill Mueller
Edgar Renteria.

3) Clement needs to work on his control just a *smidge* more. (although I was really fine with his hitting Jeter, that man needs to move off the plate). But I'm sure Clement will. He looked great in Spring Training with this aspect and today Im sure the adrenaline and nerves were off the charts.

4)Edgar Renteria. I realize Manny hasn't hit either, but I know Manny. He has his mini-slumps. He breaks out. I don't know Edgar yet. Also that error? *shudder*. I'm willing to believe in the New Team Nerves. Look at Cabrera last year. I felt the *exact* same way, yet by the end, I adored him. I can see it happening again.


See? The list of stuff I liked is MUCH longer than the stuff I didn't like.
Game on in a few hours. Go, Sox!



So we lost Opening Day. Big deal. One down, one hundred sixty one to go. Marathon not a sprint. Blah blah etc.

Although, I should say - we lost Opening Day.. . again. We lost Opening Day last year. And the year before. And look how good we wound up doing then. In fact, we haven't won an Opening Day since 2000. You could say we haven't won an Opening Day this century/millenium. And it hasn't slowed us down.

A couple of interesting patterns. We haven't won an Opening Day since 2000. When's the last time the Yankees won the World Series? 2000. So. Red Sox lose Opening Day=Yankees don't win the World Series. I'll take that pattern.

I looked into the stats a bit.

2001. Lost Opening Day 2-1 in 11 innings. Almost won but eventually lost. We held on that year longer than we had any business to. We lost Pedro, Nomar *and* Varitek. And we held on for a good chunk of the year. OK, it all crashed and burned eventually, but that's the year the boston dirt dog came into being (and I don't mean the website).

2002, we lost Opening Day 12-11. A worse loss. We were seriously scored against, but again, almost won. We won 93 games that year.

2003, we had a 4-1 lead and blew it in the ninth and lost 6-4 I believe. An even worse loss. That year we won 95 games, made it to the playoffs and came within 5 outs of the World Series.

In 2004, we were blown out by the O's 7-2. The worst loss so far. And we all know what happened at the end of THAT season.

So. The worse we lose Opening Day, the better we do in the season! That's a good sign, right?



So a couple of random facts.
----------------------------
First pitch of the season to the Sox - a foul to Johnny Damon
First out of the season by the Sox - Johnny Damon 4-3
First K of the season by Sox batter - Edgar Rentaria
First pitch of the season thrown by Sox - ball
First hit of the season against the Sox - Wells, by Jeter
First out of the season made by Sox - Arod, F8
First K of the season thrown by Sox - Sierra
First hit of the season by Sox - David Ortiz
First Run of the Season - Payton drives in Ortiz.

First off day of the season. Today. Sigh.

This morning, the following was the entire text of the Providence Journal's sports front page.

There's a guy who hawks T-shirts and hats in the Yankee Stadium parking lots. Whenever the Red Sox came to town, his inventory consisted of "1918" baseball caps and "Killer B's: Babe, Bucky, Buckner, Boone" T-shirts.

He went out of business last October. So did everyone else who hitched their financial wagon to the "Curse Of The Bambino."

Welcome to baseball's new reality. In 2004, the Red Sox did more than win a World Series for the first time in 86 years. They destroyed a cottage industry, pulled the plug on decades-old taunts -- never again will we hear the chant "NINE-TEEN! EIGHT-TEEN!" -- and changed the sport's very culture.

Wile E. Coyote caught the Roadrunner. Nothing will ever be the same.

And now the Red Sox face a whole new challenge: Living life as the hunted, rather than the hunter. Trying to defend, rather than seek, a crown.

Today we look at the '05 Sox, along with the rest of the teams in baseball. Tomorrow we'll examine the new Red Sox-Yankee dynamic.

And then the new season -- and the new world order -- begins.
And it will begin. Tomorrow (barring inclement weather). And it begins like no other in my memory. I still smile at random moments. Have you seen that McDonald's commercial? That's me. I'm excited and anticipatory and happy and nostalgic and impatiant and looking forward to warm summer evenings filled with Red Sox baseball. But for the first time, I no longer feel anxiaty. And it's an amazing thing.
A few takes, from a few angles.
More Than a Game
(Three Tissue Alert)
The Yankee-Red Sox rivalry is much more than the oldest, strongest, most intense clash in American sports. It's a tapestry of generations, linked by heartache and hope. It's a decades-long soap, the characters cloaked in pinstripes or solid gray. It's balls ping-ponging around the lyrical bandbox in Boston's Back Bay, and legends growling in Monument Park. It's Babe Ruth and Harry Frazee, Joe D. and Teddy Ballgame. It's Bucky Dent lean, lean, leaning; it's Roger Clemens, in a Yankee cap, taking a bow before the Fenway faithful; it's Aaron Boone, stealing Dent's vulgar faux middle name.

It's scalding passion, often producing history at its rawest. It can be both vile and sweet, emotions flittering with one swing of the bat. It used to be 26 World Championships and chants of "1918," but not anymore. It's an obsession, one that digs into your soul and stays there for eternity. It abides through strikes, steroids, scandals and war. If the rivalry ceased to exist, the Eastern seaboard might as well close its shutters for the summer.
A New Battle Is About to Begin
We know it will be special. If the last two years - or 25, or 50, or 90 - have taught us anything, that is it. If we can dream it, the Yankees and the Boston Red Sox can do it. What it is, we don't know. Neither do they. But starting tonight, there will be more moments for the ages, more questions in which the context is forever understood.
Chapter 102
I'm not even sure what that means. Somehow, it makes sense. I spent my winter secretly hoping that the steroids saga would morph into a prolonged, unexpected lockout, just to give me more time to appreciate what happened. It was too improbable, too surreal, too magnificent. On Oct. 16, the Sox were getting last rites. On Oct. 27, they were pouring champagne in St. Louis. Remember the book "Thirteen Days," the one about the Cuban Missile Crisis? This one could have been called "Twelve Days." In eight games over 12 days, everything changed
Play Ball.