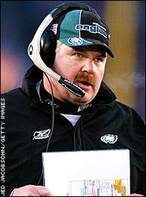 Andy Reid of the Eagles / David Wells



Or is it just me?




I've been whining (and have always whined) whenever there's a two week bye in between the last playoff game and the Superbowl. "Two weeks are too long. Too much time for hype." etc. But his morning I thought of something. If Superbowl had only had one, it would have been over now. Nothing to look forward to anymore. In a way, it's like Christmas. Seems to take so long to get here, but the anticipation is a pleasure in itself. And that's a good thing. Besides, it also means that the gap between the Superbowl and pitchers and catchers reporting is shorter too.

This amused me.


Someone I'll be rooting for come Sunday. What a great story.



Dont forget. NESN continues its World Series Winter. Complete schedule here . First game of the 2004 ALCS is tonight. I suppose I'd be more excited if I didn't have the original FOX broadcasts on DVD already. (Thank god for people with TiVOs and DVD-R's.) But there's just something special watching something live, even if you have seen it before. And it's not like I've watched these games more than a couple (dozen) times. I'm not sure how much of the first three games I'll watch on NESN. But I may tune in tonight in time to see the seventh inning. Just for the sheer perverse thrill of watching Mussina's perfect game broken up. I'm so evil.
*insert evil grinning smiley face here*

And don't forget to vote in NESN's poll for a possible 2004 DVD set.
VOTE



Woohoo!

After spending the entire afternoon in the lovely (not) Virtual Waiting Room (tm), I find myself the proud owner of two tickets to both an August DRays game and a Sept Angels game.

And now my credit card hates me and my back is killing me.

But. Tickets!



Two things I find annoying

Well. Three things if I count the fact that I got my car out of my snow encased driveway to do an errand only to have it BREAK DOWN and have to be taken to the mechanics and it might have to stay there the whole weekend and I have to carpool with a coworker tomorrow and and . . . *whine*.

OK. I feel better now.

Anyway. Two things I find annoying.

Pink sports gear . Hey, I may be a "girl" but I hate the pink stuff. Sports gear should be sports gear, not frills and froo-froo. Women don't want oversized jerseys and big graphics? I have to take issue with that. My closet full of number jerseys and graphic intensive XL Tshirts says so. And thanks, but I like the sport itself. Although I have to admit cute&sexy players don't hurt. :)


And two. The way a certain boston writer has to take a dig at the Red Sox whenever possible, even in articles that have NOTHING to do with the Sox, or even baseball. Take this article where he says

Try to imagine this in the self-important, self-centered world of baseball. When Nomar and Pedro were injured, they immersed themselves in the magnitude of their misery and made sure everyone knew how much they hurt and how hard they were trying to return. Curt Schilling, who played through pain and delivered like no baseball player in the history of our town, elaborated on his struggle with a heartfelt postgame dissertation that elevated a playoff game to a veritable Fenway Fatima.


Now what the hell does that have to do with anything? Did he really need to stick a snarky remark in a very positive article on our home football team? I don't know why it continues to surprise me though. I should have gotten used to it by now.


And a totally random thought for a totally random day. Think this
will mean we'll be playing in the P&G stadium? The SOSH folk would get a chuckle.

Well it's my day off from work and there's just too much snow out there (and cold!) for it to be enjoyable driving or walking around. So I think it will be a plain ol' Surf The Net day. Not that there's anything wrong with that.

Nice article about some of the Red Sox Prospects here . Sounds like a good group of kids.

So it's Mientkiewicz to the Mets. And I just learned to spell it too. I'll miss him. Some of those late inning picks he made were absolutly breathtaking. Watching him square off against Delgado when Doug had to play second that time was something too. (Wonder if Petey will plunk Carlos for him when the Mets and Marlins meet up next season.) And Eyechart was a great cheerleader from the bench. And I don't mean that as a dig at all. One of the great things about the '04 team was the way they cheered on and pulled for each other - from the star outfielder's doublepoints, to the way the non-roster-for-the-WS bench players did their cooler shuffles and leapt up to welcome each base runner back to the dugout. Such fun to watch.

But I have to admit. I'm so glad they kept Millar. I adore Millar. Yes, I know he can be brash and outspoken and prone to foot-in-mouth disease, but that's part of what I love about him. He's *entertaining*. He tells great stories. Personally I loved the "shots" story. I want to hear everything. I guess I'm strange but I never expected the "prudishness" that greeted that story from some of the fans. But as I said, I'm strange. He's willing to take to the press anytime, anywhere. And I think some of his "shyer" teammates appreciate that.

Another reason I love Millar? Just pop in the MLB 2004 World Series DVD and take a look at the bonus featuers. Where Millar is going around telling anyone who will listen not to let them win tonight. What confidence. And that whole attitude *worked*. And in other interviews you can see and hear his teammates reiteratiing his attitude. They took it to heart. And. It. Worked. My God, they did something that one one else in baseball has EVER done. And I have to think that attitude had something to do with it.

Plus I love the whole changing facial hair thing. What can I say. I was also a big Dauber fan.


More later. This is like the fourth time I've tried to make this post and I keep hitting the wrong button. So I need to get it posted before it disappears again and get my eyes looking at something different.



It's a long cold winter. And not just because there's over two feet of snow on the ground and sub zero wind chill.

All I have to say is thank God for the Patriots. Without them my winter would be longer and colder. But football is only once a week. And right now, not for two weeks. And I have to admit, as much as I love football and the Patriots . . . baseball is my One True Love, so to speak. And the wait between the last game of the season until Spring Training seems interminable.

I've been whiling away a few nights watching and taping World Series Winter on NESN. I really enjoyed the 1975 series. I was only a small child at the time and watching the entire games has been great. I also watched games 1-5 of the 1986 series but last night I found myself unable to watch game 6 (or game 7 tonight for that matter). I know what happens. I've seen it al before. And with last October's triumphs, the fact they didn't win then doesn't hurt as much. Yet, I still couldn't bring myself to watch. And I tried to figure out why. I mean I had no trouble watching game 7 of the 1976 series. And I think I may know why. The '86 team was the first team I truly fell in love with. I knew all the players. I followed them. I had crushes on some of them. Heck I wore black hightops for years after that October. I felt I knew them. Almost . . . family in a way. And it's not my pain that I don't want to experiance. It's theirs. I didn't want to see Calvin allow those hits. I didn't want to watch Stanley and Geddy and that pitch. And I certainly didn't want to watch poor Billy Buck and that grounder. Like you don't want to see the people you love in your life screw up or experiance pain, I don't want to watch "my players" go through all that again.

And on a somewhat related note. Watching Buckner play with his ankles like they were has made me admire him all the more. In game 5, when he scored from second on that hit, it just looked so painful. And I thought - if they had won, he would have been hailed as a hero. He could have been the '86 version of Schilling in some ways. But fate, and baseballs, bounce in unexpected directions. I've naver ever blamed him. In fact, I wrote my very first fan letter to anyone ever to him that winter. Now Mcnamara on the other hand . . .



Well. Where do I begin.

I was going to do one of these last season but everytime I keep track of the season, well. You know, right? Actually, I've never kept a journal but in 2000, 2001, and 2002 I had printouts where I logged wins, losses, rainouts, clippings etc and look what happened. So, being a "typical" supersitious baseball fan - 2003, I didn't keep formal track at all (although I did watch or go to all of the games as usual) and we made the playoffs. I was on to something. 2004, I did the same (even went to a few more games than usual). And it was the greatest sports year I ever had. So now my personal jinx is over. O V A.

And so I thought I'd try something new. This will be the result, I hope. Ive never really kept any kind of a journal at all, even a diary as a kid. So it will be a learning experiance.

Now I need to go make profiles and tweak settings and everything else I'm supposed to do here.

See you later.