Hey, it's a long winter. *Eyes the piling snow out her window*

Got the url from Grand Mental Station

You can make your very own Red Sox player (or other player/team/yourself) out of virtual legos!

Here's my attempt at LegoTek.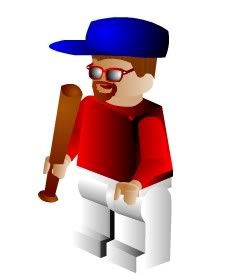 The dueling player articles continues. A few days ago, we had MannyDay. Then it was Bellhorn's turn. Today, it appears to be our veterin knuckleballer, Tim Wakefield.
The two articles even feature the same picture.



The Globe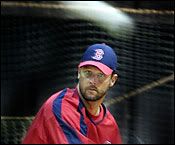 Wakefield's is gripping story
To the Sox, Wakefield is just one of those gifts who keep on giving -- another dozen wins and 30 starts last season for the stat-minded, who should also know that with another 10 wins this season, Wakefield will vault to third place on the team's list, trailing only a guy named Cy Young and a guy (Clemens) who has won more of Cy Young's awards than any pitcher, living or dead.

But his value to the club is measured in so many other meaningful ways, on and off the field. We'll give you two. Game 3 of the ALCS, Wakefield pitches 3 1/3 innings of relief in a 19-8 blowout loss to the Bombers that costs him a scheduled start in Game 4 but saves the bullpen to live another day.

"We had to get through that night before we could play the next night," he said yesterday. "When you're in the heat of the moment, you try to do what you think is the right thing to do."

That was on the field. Just days after the Sox won the World Series, Wakefield was in Portland, Maine, fulfilling a promise to a friend: Singer-songwriter Cindy Bullens, who lost her 11-year-old daughter, Jessie Bullens-Crewe, to Hodgkin's Disease, was having a concert to benefit the Jessie B-C Fund as well as the Maine Children's Cancer Center, and Wakefield showed up, guitar in hand. He played with her band, then took the mike and let them back him up while he sang the Eagles' "Take It Easy."
The Boston Herald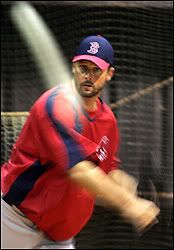 Wake Might Be Next
The Red Sox went from Ted Williams to Carl Yastrzemski to Jim Rice to Clemens, degrees of separation that connected 1939 to 1996. Then Clemens hit the road and Mo Vaughn followed, and at the trading deadline last season, Garciaparra was traded away by a 30-year-old general manager who grew up in the shadows of Fenway Park.

During that brief span of time, the Red Sox went from a locally owned business to a corporate machine, a change that was both necessary and inevitable. Sox management has performed miracles with Fenway Park and brought Boston baseball into the 21st century, producing more spin-off ventures than "All in the Family."

Still, it is difficult to think that we have not lost at least a little bit of something here. Among current Red Sox players, Wakefield is the team leader in continuous service time. Wakefield looks to be in great shape - he resumed the training regimen he employed before 2002 and 2003, when he was a combined 22-12 with a 3.52 ERA - and he has accepted pitching out of the rotation or bullpen, the latter where he could end up again at some point this season.
Along the way, we can honestly say we got to know him, and opportunities of the like are becoming more and more rare.
The Herald even has a bit on the other side of the battery with an article on
Doug Mirabelli
"There's something about me and 'Tek being together," Mirabelli said. "It's a relationship that's worked well. We've got such mutual respect, let alone being really good friends. Our families go out and eat dinner together. It's that kind of relationship."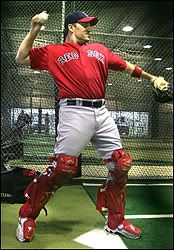 I knew she was quite a gal anyway, but I never knew this

A woman of many interests, indeed.

I'd like to see some of this stuff in her museum.


EDIT- Fixed Link. Sorry.



Not Sox related but this machine sounds unusual and interesting.



As we all are. In truth, it's a little early to be complaining about winter. A perfectly sensible arbitrary rule of thumb is that you're not allowed to complain about winter until March 1, which, stretching things a bit, is sort of the beginning of the end for winter - if we're lucky. But, in fact, there comes a time every winter when a switch turns on, the last snowfall feels like just about all you need, and it's time to move on.

It's time to move on.
Some Count Only 3 Seasons: Fall, Winter and Baseball
That's my motto.

Images available from Boston.com, in today's Spring Training Gallery. Apparently it rained.





**insert funny caption here**




I was poking around Nyyfans.com today, reading a thread on David Ortiz, when I saw this in the "related links" box.

Take a look at this thread from December, 2002.

I love small, amusing things. You may have noticed that.

Apparently yesterday was MannyDay. Today the papers go with Bellhorn.

The Globe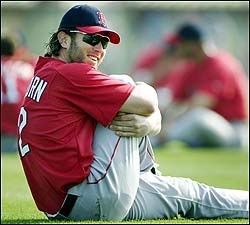 Loud and Clear
Why express in more words what can be conveyed with one? Or, what can be conveyed with one swing of the bat?
"He's quiet," said Johnny Damon. "He's a gentleman. The rest of us aren't."

Little seems to have changed this spring about Bellhorn. He still doesn't say boo, though Kevin Millar, who brought Manny Ramirez out of his shell last season, is working to do the same with the placid Bellhorn.

"Millar wants me to be a little louder," Bellhorn said. "I'm going to be a little tougher [than Manny]."
The Herald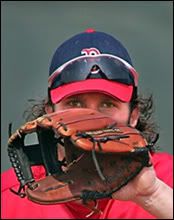 Mark of a Winner
``I called my buddy, Jamie Quirk, in Colorado and said, `Jamie, you've got to help me,' '' Francona said, referring to the Rockies coach. ``I said, `This guy hates me. He won't even talk to me!' Jamie started laughing like hell. He said, `Don't worry, he just doesn't talk. We called him Mute.' That made me feel better.''

Entering his second season with the Sox, the second baseman still doesn't say much but if actions truly speak louder than words, he's about as loquacious as Winston Churchill.
Success and a World Series title haven't exactly made Bellhorn verbose but that's just fine with his manager.

``He's himself and you've got to be true to yourself,'' Francona said. ``He just comes to the ballpark and gives you everything he has. Players appreciate that. I know I do.''
Interesting article on the Sox in today's New York Post

SAWX REALLY RING-ING IN SPRING

These Red Sox are looking ahead - and not back - at what they accomplished, and that is bad news for the Yankees. Johnny Damon is in a walk year and reported to camp in terrific shape. Manny Ramirez showed up yesterday with beads in his hair, a smile on his face and thunder in his bat. After spending a week with these Red Sox, it's clear they are a zany, but focused, group.
"Primer" on the 40 man roster


The Captain is in the Building

At one point during the meeting, applause could be heard outside the clubhouse walls.

"You know what they were cheering about?" Henry said. "Jason Varitek was introduced as our captain, and everybody in the room cheered. That was a great moment."
Pair of great articles on Manny today in the Herald today.

A Good Humor Man


FORT MYERS - Manny Ramirez was at his locker, smiling, laughing, joking, apprising one Boston print reporter of his offseason exploits in Brazil and Argentina, when ESPN baseball analyst Peter Gammons approached and asked for a moment of the slugger's time.
``Sure, no problem,'' Ramirez said, excusing himself. ``You want to go get a donut?''
Go get a donut? Like at Krispy Kreme?
``It was really great for me,'' Ramirez said after the workout. ``If I knew a long time ago that it would be so good, I would have done it sooner. I really didn't hate the media. I just wasn't comfortable with my English.'
Red Sox slugger happy Manny -- WS MVP finds comfort zone
FORT MYERS - Manny Ramirez didn't pause yesterday, when asked if he'd set any goals for 2005.
``I'm thinking, maybe, an average of .275 with 25 homers and, maybe, 100 RBI,'' he replied. ``Yeah, that's my goal.''
On hand for the Red Sox first day of full-squad workouts, Ramirez tried to suppress a smirk when told his averages during his first four seasons in Boston - .321, 38 1/2 home runs and 116 1/2 RBI - were far higher than what he'd set for the upcoming year.
``I know,'' he said with a widening grin. ``But this way I'm going to feel good about myself when I reach them.''
``I told my mom I don't care about winning a regular-season MVP,'' Ramirez said. ``I want to win it in the postseason because that means we won.''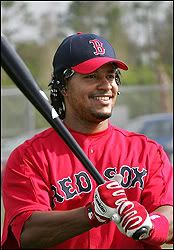 Just look at that smile! And the hair beads! (I love the hair beads!). Can I just say once again - Thank GOD we didn't trade our Manny for *shudder* Arod. Mr Huggy vs Mr Slappy. No contest.
I work in a grocery store, and we're having an ice cream shelf reset in a few weeks. I got the diagrams and I was making all the new tags for the shelves, when I did a small double-take.

Looks like Hood is coming out with a line of Red Sox themed flavors. Translating the tags, it looks like we're getting

Fenway Fudge
Comeback Caramel
Green Monster Mint
Peanutbutter Nation

Sounds tasty.

Is anyone else annoyed that Arod keeps calling Arroyo "Brandon"?

I think that the next time Bronson gives an interview, he should talk in glowing terms about Arod, but call him "Alan" throughout.

Well. It would amuse me, anyway.


Interesting article in the New York times today by Murray Chass.
The title says it all.

Ask Stupid Questions, Print Distorted Answers

Ken Coleman has made the list of ten finalists for election to the Hall of Fame. I hope he makes it. He is the voice of my childhood Sox memories.

Besides how cool would it be to have Boggs, Gammons and Coleman all go the same year?

Article here.

With a distinguished and deep voice, Coleman called some of the greatest moments in Red Sox history, many of which came during the Impossible Dream season of 1967.
Here. It's cold. It's wet. There's another six inches of snow on the ground.
There. . Well, it isnt.

Doesn't it look like they're having a great time?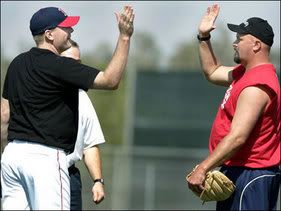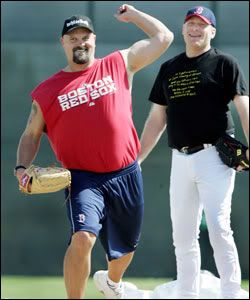 Teams that have fun, are fun to watch.
I can't wait until the actual games start.
Wish I was there.




pictures from boston.com

The Red Sox have ordered *five hundred* World Series Rings, according to the Boston Globe. Five. Hundred. Wow. What a amazingly generous move by the front office. I'm glad that it looks like people like Nomar, and Daubach are getting a ring. Heck, looks like Bobby Jones and Cesar Crespo are getting them. I think this is right. They played for the team. They got hits and outs and RBI's and helped this team win. They deserve rings. I'm also glad that employees and the like will also get rewarded with this.

Some of the interesting bits from the article.

The Sox will issue 500 World Series rings to players, coaches, management, and myriad team employees, obliterating the record for the largest
order ever received by Minneapolis-based ring maker Jostens Inc.

"That's so beyond the record it's unbelievable," said Al Nuness, vice president of sports sales for Jostens. "The most we've ever done for a
championship ring in the past has been the Patriots when they first won their rings [in 2002]. That was about 225 rings. This is going to be a
major celebration for the Red Sox."
"This ring will change the way championship rings will be designed. That's how elegant this ring will be. Most rings in the past, it's gross, so
much bling. With this you'll see . . . a ring that would really represent a place like Boston that has been in baseball forever."

The Sox have yet to decide whether to issue the rings April 11, the day of the home opener against the Yankees. If that is the team's decision,
Nuness said, the rings will be ready.

"That's our commitment to Boston, to have the rings ready whenever John Henry wants them," he said. "
Lots more interesting stuff there, so go click the above link and read!
On a side note, I'd pay money for them to give Johnny Pesky his ring during the ceremony, live on TV. Damn, that would be a sight.
FORT MYERS, Fla. -- The cleat is on the other foot. The apple is in the other throat. The Red Sox are the reigning world champions and the
Yankees are trying to recover from international disgrace. And New Yorkers are now obsessed with Boston's baseball team.
Red Sox fans aren't the only ones with Sox on the brain
I love it. I just love it.
FORT MYERS, Fla. -- Grudgingly, Jason Varitek is going to accept an addition to his jersey.

Actually, it will just be one extra letter stitched onto his uniform. But it is an important letter, one that is a testament to the catcher's grit, hard
work, talent, passion to succeed, humility and, most of all, his ability to lead the Boston Red Sox on the field and in the clubhouse.

It is the letter "C," and it will stand for captain.
Tek's 'C' will wear well
Bruschi released from hospital


BOSTON -- New England Patriots linebacker Tedy Bruschi was released Friday from Massachusetts General Hospital, where he spent two days
following a mild stroke that caused numbness, blurred vision and severe headaches.

Wearing a gay [sic] sweat suit, Bruschi smiled and waved to reporters and fans as he walked with his wife, Heidi, to a waiting sports utility
vehicle outside the hospital. He did not comment.

Bruschi, 31, was reportedly walking and talking normally a day after the stroke. Doctors said such positive reports so soon after the stroke were
good indicators that he could continue his football career, but his prognosis remains uncertain.
We're still praying for you, Tedy.
No, really!

Interview here

Good interview with former Yankees Announcer (now Dodger Announcer) Charley Steiner.

But there's a particuar bit that will warm a Sox fan's heart.



PHIL ALLARD: Could you feel the series slipping away from the Yankees in 2004?

CHARLEY STEINER: Oh, Absolutely. It was palpable. When they Sox were down 3-0, to a man they said: "If we win tonight, I like our chances." If you spent as much time with the Red Sox as I have, you know when they mean it. Now there are a lot of good guys on the Yankees and I like them very much. But what happened was after the Sox won the 4th game, then Doug Mientkiewicz and Kevin Millar, said "We are on our way." Then, BANG, you could feel it.

PHIL ALLARD: You were quoted earlier this winter (and I am paraphrasing here) that you felt that the Yankees didn't show joy when they won as much as relief. Can you embellish on that a bit?

CHARLEY STEINER: There should be emotion of joy and euphoria, and "God, isn't that great." Unfortunately, with the Yanks, the prevailing attitude after a victory is one of relief, and then "God, we have to go out and do it again." That is the pressure that is put on them by the Steinbrenner way of doing business and you know, it's been enormously successful for him and the Yankees. But it's also very pressure-intensive. The Yanks were far tighter leading 3 games to 1 then the Red Sox were trailing 3 games to 1. Again, the Yanks have had an enormous amount of success doing business in that fashion for a very long time. So, to second guess them would be hypocritical.

PHIL ALLARD: After game 3, Sheff, Mat, and A-Rod hit, I believe, somewhere in the .100s. All those chances they had, if anyone came through they would have won the ALCS.

CHARLEY STEINER: But again, you look back on it, if they closed the Sox out in the 9th inning of game 4, we wouldn't be talking this way. If Mo doesn't walk Millar . . .
If "ifs" and "buts" were candy and nuts, wouldn't it be a Merry
Christmas? - Don Meredith
Well it certainly was for me! *insert smiley here* It's been Christmas since October.
I love it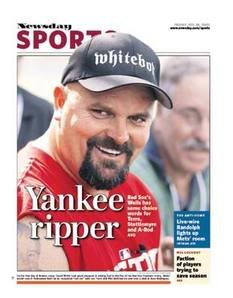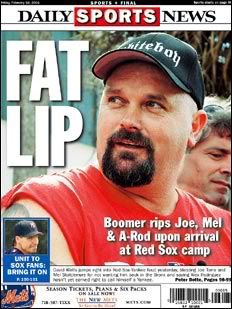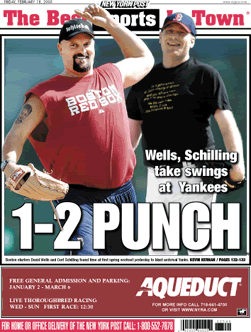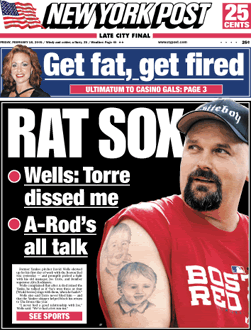 Example

David Wells further fueled The Rivalry yesterday when he clearly staked himself as a Red Sox by sniping at George Steinbrenner, Joe Torre and
Mel Stottlemyre to explain his defection
Post Article
I love this rivalry. I love it on the field. I love it off the field. I love it with a fox, I love it in a box. I do love this rivalry. I do love it, Sam . . . Sorry. Got carried away there.
When we first signed him, I had my doubts on David Wells, but I think Boomer might just fit in with this group of Cowboys/Idiots/ThisYearsIdentifyingNickname

Boomer at Spring Training


On one foul line stood Curt Schilling, wearing black Reebok cleats,
white uniform pants, two red socks, and a Red Sox cap. "Changeup,"
Schilling barked yesterday afternoon, releasing a pitch.

About 60 feet away, his throw settled into the glove of a man wearing
white sneakers, white crew-cut socks, team-issued shorts, a sleeveless
Red Sox T-shirt, and a black cap that read "Whiteboy." The shirt
revealed two tattoos on his right arm of his children's faces. Twice the
cap fell off, providing the odd juxtaposition of a bald head and a black
goatee.

Perfect, he's not.
*****

"If I need to protect my teammates, no matter what happens, I've been
around long enough, I know what to do."
*****

On Yankees third baseman Alex Rodriguez: "He's a five-tool player. He's
one of the best out there. But I remember reading his press conference
when he went there. He said a `we' in his conference, like he's won
three or four rings with them, and he hasn't. That kind of disturbed me
. . . He shouldn't put himself in that category, like he's been there
the whole time. He's got to earn it."
*****

Cashman wasn't interested, Wells said. In March 2003, Cashman said Wells
"did tarnish the Yankee image" with his book. Wells was fined $100,000
by the team.

"I said, `If there was any interest, I'd love to come back to New York
and play,' " Wells said. "Brian told me, `We'd love to have you, but the
Boss is looking in the other direction. We're going to go with youth
this year.' They turn around and sign [41-year-old] Randy [Johnson].
What part of that I didn't get I don't know.
*****

Wells is here, he said, because "when you want to go out, you want to
go out on top. I thought this was probably the best team out there to
win."

In fact, Wells claims he picked the Sox to win the World Series prior to
last season, citing the team's pitching staff as his rationale.

"I should've put some money down on it, huh?" Wells said.
*****

"I'll enjoy it," he said of the notoriety. "I'll push it aside. Like I
said, I can overcome all those things. I overcame a lot of things in my
life, and I still go out between the lines. That is my sanctuary. I have
fun. I'm like a kid out there.

"I want to go out on top. I'm not going to let anything stop me."
Wallpaper


Personally, I'm keeping my Tek/Millar post-WS knee celebration though. Still, nice to see the palm trees again. I've been to Spring Training Twice. Once, for a few hours on a family theme park trip back in Feb, 1995. We just saw workouts but it was still great. And for a four day weekend trip in 2002 with my stepsister. Actual games. Bestest Part? Getting to interact with Jason Varitek. He is a nice, nice man.

Boston.com has another update

BOSTON -- New England Patriots linebacker Tedy Bruschi suffered a mild stroke but is walking, talking and in good spirits, the team said Thursday.

Bruschi experienced temporary numbness, blurred vision and headaches Wednesday night and was taken to Massachusetts General Hospital.

"It has been determined that these symptoms were the results of a mild stroke," team spokesman Stacey James said. "Tedy is in good condition and, as always, his spirits are high. He is walking and talking normally and stressed that he would like to thank everyone for keeping him and his family in their thoughts and prayers."

The Patriots said Bruschi could be released as early as Friday.

"The outpouring of support has been overwhelming and the Bruschi family is very appreciative," James said''
article here
Get well, Tedy.


EDIT - At 3:30pm, WEEI reported that Bruschi had a "broken blood vessel in his head". Nothing about his brain or a stroke. So could be fairly good news. *knocks wood*

EDIT2 - 5:30 on boston.com "The Patriots' Pro Bowl linebacker was admitted to the hospital Wednesday after suffering from persistent headaches and numbness. The numbness is now gone."

Tomorrow! Tomorrow!
They report tomorrow!
It's only a day away!

Sunday's Red and Rover
*
Interview with Curt on FoxSports
Part 1
Part 2


Poor Drew
I know it would be a step down for him, but I'd love to have him back here as Brady's backup. I've always been a big fan of Drew and he carried this club for many years when we didn't have much to look forward to. He took the team to the Superbowl and it was much closer against the Packers than the final score indicated. And he had heart and guts to spare. I still remember those games he played with the pins sticking out of his broken fingers. And these last couple years, one of the big questions was "what would happen if Brady goes down". Well. I'd trust Drew to step up if that unthinkable event happened.

I love coming across these things out of nowhere.

Backstory - I was watching some kind of documentary (don't remember now) and they had an interview with a screenwriter with the last name of Epstein. Since I knew Theo's grandfather and uncle wrote the screenplays Casablanca and other movies, I wondered if this man was related. So I popped over to the internet movie database to check the man. Couldn't find a connection, so I popped over to the Casablanca page to see if I could find a link there. Where upon I came across


Julias Epstein

Great uncle of Theo Epstein - the GM of the 2004 World Champion Boston Red Sox.
Philip Epstein
Trivia
Is the grandfather of Boston Red Sox general manager Theo Epstein (the youngest GM in baseball history, who built the 2004 team than won the first Red Sox World Series victory since 1918, reversing the so-called "curse of the Bambino")
How cool. Remember when *Theo* first was hired and everyone was "Theo is the relative of so and so and blah. And now it's "related to Theo Epstein". And the "2004 World Champian Boston Red Sox" NEVER gets old.
Go. Read this article now. Go!


He listens to them, prods them, encourages them, comforts them, and celebrates with them. He is their database, their muse, their rock, their captain.

He is Jason Varitek
It's time to play the music
It's time to light the lights
It's time to get things started
At the Stadium tonight

Good article on Mantei in the Globe

He sounds like a good guy and a great player, as long as he is healthy.

He has some interesting things to say on:

The club

Mantei said he's intrigued by the personalities in the Sox clubhouse. And, he said he might be willing to be a setup man here for a few seasons rather than close elsewhere because of the personalities on the team and the passion of the city. Henry said that attitude, coupled with his composure, will serve Mantei well. In Florida, he developed the nickname "Ice Man."
Himself
Mantei said that win or lose, he will be at his locker, waiting for the media.

"I'll always be there," he said. "If I give it up, I'll be there. If I strike out the side in the eighth, I'll be there. It doesn't matter to me. You can't really think about it too much or it'll eat you up."
Randy as a Yankee
According to Mantei, that might happen with his former Arizona teammate, and new Yankee, Randy Johnson.

"He doesn't like attention," Mantei said. "He's going to have problems. He doesn't like a lot of attention, lots of people bothering him. It's not a good place. It would be like coming here. The more people bothering you, if you don't like attention, it's not the right spot."
The owner
"I remember I blew a save early in the season, I think it was '99," Mantei said. "I came back the next day and there was a note in my locker from John Henry. He told me not to worry about it, that I was still one of the best closers in baseball, that I'd have a great year. He was just a really genuine, nice person."
Is it Spring Training yet?
The truck will be leaving the building


The Sox equipment truck leaves Yawkey Way for Fort Myers, Fla., today. Forget about Doppler Radar, Chikage Windler, Punxsutawney Phil, Ed Carroll, and other forecasters; the Sox truck is the best weather prognosticator of all.
Sports Illustrated columnist Jacob Luft ranks Sox rotation as number one.

Article here

I can't wait for Spring Training.

NESN reruns game seven tonight. In a way, to me, the mood of the game was a lot like the mood of the World Series. After the tension and the turmoil, it was almost a blessed relief. Ortiz-homer. Damon-grand slam. And they (and we) never looked back.

One thing that annoyed me with the coverage of the game. McCarver, Buck and Leiter throughout the game, kept discussing how amazing it was that Derek Lowe was pitching so well on three days rest. Well, guess what Announcer Boys, it's even more amazing than that. He pitched on *two* days rest. Two. Something that a pitcher has almost *never* done, or done so well. Even someone like Jim Lonborg, back in '67. I'm almost afraid that in the progression of the years, when the game is rerun on ESPN classic and clips are utilized that this may be forgotten. That the real, amazing fact might disappear from recollection. I hope not. What DLo did should be remembered in baseball minds forever.

And speaking of the man, Lowe speaks

I, for one, will miss him.



Nicked this from Basegirl . Working its way around the blogworld.



What Red Sox Player Are You?


Although, apparently I'm tied. If I had answered the tie-breaking question the other day, I would have been a Big Papi. Cool.



You scored as Johnny Damon. You are Johnny Damon!! You are very
down-to-earth and like to joke around a lot. This is apparent through
your appearance. You are known for looking unkempt, perhaps even
caveman-like, but everyone loves you for it. Oh yea... Johnny is my
homeboy!




| | | |
| --- | --- | --- |
| Johnny Damon | | 70% |
| David Ortiz | | 70% |
| Manny Ramirez | | 60% |
| Kevin Millar | | 60% |
| Curt Schilling | | 57% |
| Mark Bellhorn | | 53% |
| Theo Epstein | | 40% |
| Jason Varitek | | 33% |
Which Red Sox Player Are You?
created with
QuizFarm.com
I only noticed this upon an upteenth viewing of my DVD and then with DVD zoom to check it out. Laughed outloud when I saw it "live" last night.

When Eyechart hits his ground rule double that Sheffield can't get to, it bounces into the stands. The cop stationed there, reaches out to snag it. The college age man standing next to him gives him these "hey, congratuations" pats, where upon the cop hands him the ball. The guy seems to be dumbfounded for about 1.2 seconds and then does this WOO movement anc crushes the cop in a bearhug, almost knocking off his hat.

Funny stuff.

My other personal, not play-related, bit of that game is Schilling, DLow and Wake as The Three Gunslingers. Wow.

Game 6 tonight. The Sock. Horny's Homer. Slappy McBluelips is born. Riot squad on the field. 55K New Yorkers shutting up. I can't wait.



I wouldn't believe Jose Canseco if he told me the sky was blue.



Some random thoughts on last night's game from a sleep deprived fan.

The National Anthem. Absolutely spine-tingling. I actually felt shivers. That's the way it should be done. None of the "look how well I can sing, look I can trill and add vibreto and stuff in extra notes". Beautiful.


It was a close game. The Eagles played us well. It's weird that the score was tied in the first, second and third. The Patriots didn't score first and fell behind. But Brady and his team did not get rattled and tied it right off. And then, like the Sox, never trailed again. Hey, all of you that had identical pairs of numbers in those Squares office pools did well.

I really loved the fact that the stadium played the scoring music for each team that they have in their own stadium. Is this new or has the Superbowl always done this? I have to admit, I pantomimed throwing snow into the air at every HEY.


I am so happy for Deion Branch. That man has been told his whole life he's too small to play football. And now he's MVP of the Superbowl. And he deserved it.

Although, personally, I wanted to give it to Rodney Harrison. That man came up huge. He left everything on that field, and got to "give something" to the opposition. He didn't get to give it to Freddie Mitchel personally, but I suppose Rodney can take pleasure in the fact he caught more passes than Freddie did. And that last drive interception was just the sweet cherry on the even sweeter sundae.

Tedy. What can you say about him. Sack and interception machine. I was worried when he went down, but he seems to be ok. Rodney Harrison gave me a scare there too, but he was back sooner than I expected, making a big play. I hope Eugene Wilson will be okay.

Vrabel. Another Superbowl; another touchdown catch. The other side seemed to expect it this time, but Mike made an amazing, tipping catch, worthy of any highlight reel.

Brady. No MVP this year, but wow. Three Superbowl rings and he's only 27. We are so lucky.

Corey. I am so happy for Corey Dillon I was very dubious when they traded for this guy. I wondered about his reputation. But he's turned out to be better than my wildest dreams. Thank you, Cinci. It was a lovely present.

Hey, Bill. The other bench! And thanks for wearing the hoodie. It just wouldn't be the same without it.

TO played phoenominally. I wasn't expecting much but man, he would have been MVP if the score had been reversed. Amazing.

The halftime show was so much better than last year. Something that made you want to sit and listen. Last year I wandered away from the TV and did other things. This year I even sang along.

Another three point Superbowl. What IS it with our team and winning a Superbowl by three points? Another game decided by an Adam Vinatieri field goal. At least this time, he got to do it earlier in the game and relax a bit.

The "aw" moment. Watching Bill, Romeo and Charlie hug on the sidelines after the win. I got a bit verklempt. Goodbye, Mr Crennel and Mr Weiss. We'll miss you. Thanks for everything.

I love the water dump on the coach (just as long as it's not too cold for the poor guy), but jeez, get his dad out of the way first. Although he's an old football coach himself, he might have liked it.

Now with all that gushing and babbling out of the way -

What the Hell were the Eagles thinking in the closing minutes of the game? What was with the clock (mis)management? They just took their time in the last chunk of the game, ESPECIALLY after they scored that touchdown to pull within 3. Ok, the onside kick was debatable. They're difficult but not impossible and if they had pulled it off they would have been in great position (thank you, Christian). But they're very risky. Personally I would have punted, trying to nail the Pats near their own goalline. The Eagles had a good defense. I think they should have tried to make the Pats go three and out and take over with possibly good field position. Ok, so they didn't. They still stopped the Pats and took over with plenty of time left to do something. But what did they do? Play like it was the third quarter. Where was the hurry up offense? Where was the no-huddle play? They'd wander into a huddle. Then they'd amble to the line. Seconds ticked away. The *game* ticked away. And then they were forced to toss and Rodney put it away. Now, the Pats would not have done that. Judging by their last two Superbowls, Tom would have gone to the hurry up, drove his team down the field and Adam would have kicked the game tying FG. But then again. I'm glad they did what they did. :)


So. Now comes the parade. I love duckboats and confetti. And a week and a half or so until pitchers and catchers report. I wonder if the Sox will have the Patriots throw out the first pitch(es) on Opening Day again. Worked last year. I did hear a rumor that the Sox wanted to keep the Opening Day ceremonies concentrated on the World Series and the fact that they play at home on Patriots Day would mean something. But we'll see, I suppose.

Gah I need a nap. But it's hard to sleep when you're floating on air.




What a game

I'm speechless.

I'm drained

I'm shaking

And I'm HAPPY.

WOO HOO.

More later



I've been thinking a lot about my grandmother this weekend. Ever since the news broke about Tom Brady losing his grandmother, I've had mine come to mind. She passed away two months ago, also in a nursing home, at 103.

It's partly to her, I owe being a sports fan. We used to curl up on the couch together on Sunday afternoons and watch the Patriots or the Red Sox play, depending on the season. She was more of a Patriots fan -she liked the tight shiny pants (if you can picture an 80some year old lady being a butt-gal. Cause she certainly was ). When I see the center, and the quarterback get ready for the snap, I think of her. And smile. She was quite a woman. My dad, her son, took me to my first game at Fenway. And the parade last year. He wouldn't have missed the ride for the world.

My grandfather on the other side was a Brooklyn Dogers fan. And a journalist. My mother recently told me that back when, he got to travel with Branch Rickey and Jackie Robinson to do a story on that season. I wish I had know this when he was alive, I bet he had some amazing stories. When the Dodgers left Brooklyn, he split his affections between the Mets and the Red Sox. (He always hated the Yankees.) He took my mother to football games. And me to my only one. Harvard/Yale. Now that's a rivelry.

And so here I am. Patriots Fan. Red Sox Fan. Yankee Hater. Admirerer of Men In Tight Shiny Pants. The beat goes on.




"The Kick" - one of the top five most significant plays in the last 25 years, says Sports Illistrated.


One thing about which there is no debate is this: If your life depended on a field goal, no matter the situation, Vinatieri is the man you'd ask to kick it. Like Tom Brady, he is not necessarily perfect all the time -- few remember that Vinatieri missed one field goal and had another blocked in the first half of last year's Super Bowl -- but he has always been pretty damned-near perfect when it counts most.





Joe Buck mentioned an interesting item this week: He's never seen the Patriots play in person.

You know. I got that feeling with him and the Red Sox last year

Best line

"It's an honor to be on so many tapes of the telecast, even though angry Red Sox fans chased me into my hotel in New York during the ALCS," Buck said






I'd kill for this as a poster.


Edit - Something I did not know about the "milk".


Stewart concocted the 'stache recipe -- a strange brew that includes cream cheese, sour cream, vanilla ice cream and secret ingredients Stewart refuses to divulge.



Remembrance and reflection how allied!
What thin partitions sense from thought divide!
-Alexander Pope (1688-1744)

NESN reruns ALCS game 4 tonight. I've seen it multiple times on my recording, but I will be watching every minute of this one tonight. As I said, there's just something about watching things "live". And this game holds even more special memories for me. I was there. Three rows behind first, next to the photographers pit. And as Leigh Montville says, in his book Why Not Us? "the stories are the story" and every fan has his/her story. Well this is mine.

I suppose I need to begin with the Patriots game that Sunday. For the past while, I get together with a few other female sports fans in a chat room on a mutual friend's private server. And we either get in #pats or #sox to watch the game. Well we were gathered in #pats that day to watch the Patriots win their 20th in a row. We virtually cheered them on to victory. The game had just ended and I was just waiting for the post game show, when my friend Sheltie * totally freaks out in channel.

Her-"Oh my god!"
Me -*thinking * Yes they won. Woohoo "Yes?"
Her - "Want to go to the game?"
Me- "But the game just ended . . . The Pats won."
Her- "No, silly, the Red Sox game tonight.
Me-*spittake*

Her father has season tickets (great seats. We've sat there before) and he didn't want them. Didn't . . . want . . .

Me-"I'll meet you in Kenmore Square in two hours"

I live almost exactly two hours south of Fenway; it takes me two hours to the minute from my driveway to the gates of the park. (Barring traffic jams, accidents, etc). So I figured since we were meeting "closer" to me than the park, if I ran around like a mad woman, we could be at the park in plenty of time for the 730 time on the tickets. (Turns out the game didn't get off until after 8 so we had plenty of time). I changed out of my sweats, threw on my Schilling jersey, grabbed my binoculars and a jacketand I was out the door.

I didn't want to listen to WEEI on they way up, I knew they were going to be trashing the team. I hate that. I'm a glass is full kind of fan. We can be down 10-0 in the bottom of the ninth with two out and if the batter walks, my brain goes "rally time". All day I had been thinking much like Millar turned out to be. "If we win tonight, we have Pedro. Then Schilling. And then Game 7. And Game 7 is Anything Can Happen Game. I was so excited that drive-I made great time. Parked myself at Riverside (I wouldn't be caught dead driving into Boston ), put the last of my cash into the parking and the T fare in and boarded the train. Got off and Sheltie was waiting for me. Had to go to the ATM because I had about 5 cents in my pocket. Hadn't had time to get to a bank (or reason to, before that phone call.) She gave me my ticket. Man, was it pretty. Outside the park they were giving out those little signs. These said "We Still Believe." We grabbed them and headed in. I bought a soda in a playoff cup (man is it pretty too) and made our way down to those incredible seats. Ordered some food and we were ready to go. I began that mantra "if we win tonight . . ."and then I stopped. Bad luck to get ahead of things. Bad karma. So I switched. "If we win tonight, they won't sweep us. No sweep. No sweep for them. Not in our house." I leaned over to Sheltie and said, "No matter what happens, we were here for it.

And then we waited. And waited. Apparently they had moved back the start of the game, but we didn't care. I love watching warm ups anyway, and we had a bit of a view into the Sox dugout, so there was plenty to watch. DLo started to make his way from the dugout to the bullpen for his warmups. From his first steps out of the dugout, people started to stand and clap and chant his name. By the time he got out to the pen, he had a full standing ovation going. It was a really powerful moment. Happy and nostalgic at the same time. We all knew it could have been his last time in a Sox uniform. And there was years of appreciation in every clap. Thank you DLo. Thank you for everything. And good luck. We trust you.


Soon it was time for the pregame.. The Kingston Trio. I love the Kingston Trio. We stood to the National Anthem and then danced and sang along to Charlie on the MTA. The place was rocking. And then the first pitch. Smokey Joe Wood's son threw to Bill Carrigan's son. A very nice moment. And then a little gap in time where you just knew they were going tocommercial on the network. And then DLo made his way back to the dugout. Another ovation. We're behind you, Derek.

And then the game finally started. Both pitchers did well. Lowe was pitching great. There were more than a few dLO dLO dLO chants. I laughed when I watched the recording after at the immortal words of Joe Buck, "DLo. That's a nickname for Derek Lowe. Duh, Mr. Buck. The place erupted in the second when Matsui was thrown out at the plate. Man, that was a great play. The cheering seemed to go on forever. The mood was very positive. Then, in the third inning Arod hit a two run homer completely over the monster and into the street beyond. The entire park groaned, almost in unison. But before despair could set in, wvoop! Back came the ball, landing in centerfield. As one, we laughed, tension just about broken. Damon ran, picked it out and rifled it back over the wall to the street. Hey, he DOES have an arm. Wvoop. Back came the ball. Now the tension was totally gone as we laughed, almost hysterically, bad feelings rushing out in our mirth. Thank you, whoever you were. You made a difference.

Mood up, the place erupted again when the sox scored three in the fifth with a bunch of walks and a few timely hits. Then, Matsui hit his triple and Francona went out to pull Lowe. The park went nuts, and not in a positive way . BOOOOOOO. Nobody wanted to take out Derek. But out he came. As soon as he stepped up, the boo's stopped and we all rose for a standing ovation. Thank you, DLo. Great job. You deserved a win.

Sadly it was not to be. I believe it was the very next batter, a hit, the run scored and the lead, and Derek's win was gone. The fans had so wanted Lowe to get that win. The crowed deflated quite a bit. We had emotionally invested ourselves that game with Derek and when he lost his chance for the win, it almost felt as we had lost something. But, there was still a game to be played. And the mood picked up a bit, after Varitek threw out a baserunner. Lots of cheering for Tek.

Unfortunatly, Bellhorn couldn't handle a grounder (and I have to admit,from where I was sitting it looked hard to handle) and the go ahead run scored.
Lots of fans chanted for Pokey then, but I didn't. I don't like things like that, personally. And I like Bellhorn. As I said, I' m a glasses half full kind of gal. The inning ended soon after and I leaned over to Sheltie. "Only one run. That's not too bad."

I bounced in place until the ninth. Rivera was still on. I wasn't afraid. I lost a lot of fear about Rivera that season, what with the Mueller walk off game and that multi-rain delay game in September. He no longer seems immortal to me. And I think no longer to the Sox, which I think meant a lot in this game. Millar walked and the park rose to its' feet cheering and whistling and clapping and stomping. Now. Now was the time. Dave Roberts came on and all the commentators are right. We all knew he was going. Now was the time. Pick. Pick. Pick. . . Run . . SAFE! Bonkers. Mueller up. Now. Was. The. Time. Basehit! Roberts sprints home! Tie game! That driving music kicked in and fans danced and hopped in unison. We had them. It was only a matter of time but we had them

And it was getting that time where the T usually stops running. I wasn't about to leave however. I was going to stay there to the bitter end, no matter how many extra innings it took. Sheltie would have to leave before too long to catch the last train north. She had just started a new job and couldn't risk missing it. Me, I've been at my currant place for years and my boss is a rabid Sox fan. I was planning, if the T had stopped, to take a taxi out to Newton no matter what the cost, or failing that, try to find a hotel room *somewhere* in the city. But I was NOT going to leave.

They teased us for a few innings, both teams threatening but not scoring. The pitching was amazing. Foulke was incredible. Embree was good too. Then Leskanic. Nobody panic, we've got Leskanic. And he held them. Sheltie left at her last possible minutes with instructions to call when it was over. At the end of each inning, a few more fans would leave, but there was still an extremely large number, considering it was after 1 am.

Before the 12th, the PA blasted out that old 80s song "Holding Out for a Hero" and my section got up and danced. What a perfect song, I thought. This would be a perfect time. Leskanic held them again in the top of the 12th. And then it was our turn. Manny singled and the place went nuts. I think that song had put things in our minds. And then . . . words fail me. Ortiz swung. Heads turned. Eyes followed the ball. Would it it? Was it? As soon as the ball landed over the bullpen wall, screams erupted from thousands of throats. I leaped into the air screaming at the top of my lungs. Nothing coherent. Just sounds of pure joy. Ortiz reached home and was mobbed. Dirty Water throbbed from the speakers and people danced. I climbed on my chair waved my sign in the air and danced, singing along. Love that dirty water. Boston you're my home. Others danced on theirchairs with me. I particularly remember an older woman behind me, red clothes, red face paint, a straw hat. We high-fived and danced. We sang along to Tessie. To Joy to the World. A few more songs I no longer remember. We sang. We danced. There was joy in Mudville. We had won. There was no sweep for those damned Yankees. Pedro tomorrow. We wouldn't lose in our house. Schilling the next day. He'd get his redemption. And then Game Seven. Wednesday. Anything Can Happen Day.
We had WON.

All too soon I climbed off my chair. It was time to see if I had a way to get home. Ms Straw Hat asked if I would be okay. She said that they might have held the T, but if they didn't it would be easy to get a taxi out to Newton. I learned later, from reading Why Not Us that this was most probably Kate Rielly. So, Ms Rielly, thank you so much for being a dance partner, a high-five partner and for caring that I got home safely. Thank you.

So I made my way out of the park. There was a group of us fans, all moving in a big boisterous herd across the pike, through BC and BU and other college students heading over the bridge in the opposite direction. The herd moved past the ATM machines. I didn't stop. I had a token and we were moving towards the T stop. Maybe it was still running? We made our way in and down. Yes. Still running. My luck was running over that night. Or perhaps morning.

Soon we were all gathered at tracks. We waited. And waited. And waited some more. People kept coming down the stairs to wait with us. Then an officer came down with a radio, asking them to send trains for Xhundred of people. Then at a little before 2am, one set of trains from each line showed up in turn. There were lots of seats. I think they held them just for us. I found a seat next to the only visible Yankee fan, who had his head turned to the window. I sat next to him and he was pretty much left alone, except for a few "hey, good game/you played hard/maybe we can get you tomorrow too. Very friendly. Good for the fans. Lots of talk on the way out. Some on the incredible game we had just seen. But a lot of talk on the lateness of the hour, the length of our commutes home and what time we had to be at work the next morning. And who was going to call in sick. It was voted that I had the longest commute, with the Worcester contingent coming in second.

We got to Riverside at about 3am. I got in my car. I was so wide awake, still jazzed up. I don't ever remember a lot of that drive. Quickest drive home from a game in my life. I got home a little after 4. I was supposed to be up at 6 to be at work at 7. Why bother going to bed, I thought. So I took a nice hot bath to both warm up and wash. Changed my clothes. Drank some caffeine. And I just went to work. Was bumping into more than a few things, but rather enjoyed telling people why, Then it was home for game 5. And the rest, they say, was history.


So. That's what Game 4 means to me, and why I'll watch every second of it tonight. Thanks for indulging me in my reminiscence. Go, Sox.





*Her online name, but I call her that in Real Life, so that's who she is in my head. And yes, she calls me "Hoo".




Found this url while reading the SOSH board.

Registration may be required. (I think I have their cookies already.)

No Erasing This


"To lose it the way we lost it," Sheffield said. "It's one thing if you lose a series, you win a game, lose a game, but to win three in a row and lose it like that, it's the toughest loss I've ever had to get over. You can't really get over it, because it seems everywhere you go there are Red Sox fans, in Tampa or wherever. We've got to erase that."


We're everywhere *insert evil cackle here*
And we're in their heads! I love it.


Watching ALCS Game 2, NESN rebroadcast.

Yankee Stadium. Bottom of the first. Men on first and second. None out. Varitek goes out to the mound a few time to talk with Pedro.

Tim (paraphrasing) - "Why is he doing that. Why are they changing signs? Nothing has happened yet and they're changing already. Nobody's even been as far as second!"

Um, Tim? Look at second base? See the person in pinstripes? That's a baserunner. For the Yankees. Who can see the signs.


And I'll stop now. I could go on with McCarverisms for megabites of type.





Is it Spring Training yet? Hell, is it the Superbowl yet? Anything?

Entertaining myself by watching what ESPN News chooses to show of Media Day. Which, considering all the bedlum that has to be going on, really isn't that much. What they've shown of the Patriots - the players have been thoughtful and well spoken as a whole. Just what you would expect from this team. I really wish they'd just set up a camera and show us everything, espically all those crazy questions we only seem to hear about and not see.

And I'd kill for some real baseball news. Well, ok. Red Sox news. All that seems to be around at the moment is the Sosa to the O's stuff. That and apparently Arod got called to the principal's office. Or maybe the woodshed would be the more appropriate term.


Calling out A-Rod

A couple of the interesting passages


Yankees owner George Steinbrenner summoned Alex Rodriguez to Tampa last month to deliver a face-to-face message to his third baseman: It's
time to assert yourself on this team. Often using coarse language, Steinbrenner told Rodriguez to take more of a leadership role on and off the
field, according to a baseball source who was briefed on the meeting.
"I didn't bring you here to be just one of the guys," Steinbrenner said, according to the source.


Cool. More pressure. Judging on what happened in ALCS games 5-7 last year (plus the last half of game 4) I think that may be a good thing. I
also speculate that both the incidents of Arod/Arroyo might have sprung from exactly this kind of "pressure". I think Arod was trying to take on this "leadership role" and failed miserably. In the first incident, he only spurred the Sox on to a come back win, and help to gel them as a cohesieve team. And in the slap-play . . . well, who else thinks that the Purse Pic (tm) will be featured prominatly on signs in the park in the upcoming season? And besides providing Sox Nation wtth tons of future ammo, he also helped to cost his team that important game. Not only
did he make the out, he cost them a runner in scoring postition. Bring on the pressure!

And speaking of the ALCS. I watched bits and pieces of ALCS Game One last night on NESN (I was going to watch the seventh inning in entirety but my cable went fffzzttt) and it struck me - how different the whole feeling was for the first half of the series, as opposed to the second half. And I don't mean that just because they won and lost. But the way the games felt in the pregames, the first inning, before the wins and the losses were set. To me games 1-3 were a set, games 5-7 were a set and game 4 was a dividing line. And again, I don't mean that in hindsight. They felt that way from the pregames into the first pitches and on from there. And game 4 was the wall dividing the two. I think that perception is reinforced in my brain because game 4 is the only one I didn't see on TV. I actually got to go to that game (I'll post more on that later. Maybe on the NESN rebroadcast/anniversery). But the first three games I was all tense and rocking worse than Terry. And then I was in Fenway and there was cheering and screaming and nailbiting and more cheering and screaming. And then it seemed like that series was over, and another three game series took its place. I probably make no sense. But I do feel like there were 2 ALCS's in a way. And we won the one that counted.