When we first signed him, I had my doubts on David Wells, but I think Boomer might just fit in with this group of Cowboys/Idiots/ThisYearsIdentifyingNickname

Boomer at Spring Training


On one foul line stood Curt Schilling, wearing black Reebok cleats,
white uniform pants, two red socks, and a Red Sox cap. "Changeup,"
Schilling barked yesterday afternoon, releasing a pitch.

About 60 feet away, his throw settled into the glove of a man wearing
white sneakers, white crew-cut socks, team-issued shorts, a sleeveless
Red Sox T-shirt, and a black cap that read "Whiteboy." The shirt
revealed two tattoos on his right arm of his children's faces. Twice the
cap fell off, providing the odd juxtaposition of a bald head and a black
goatee.

Perfect, he's not.
*****

"If I need to protect my teammates, no matter what happens, I've been
around long enough, I know what to do."
*****

On Yankees third baseman Alex Rodriguez: "He's a five-tool player. He's
one of the best out there. But I remember reading his press conference
when he went there. He said a `we' in his conference, like he's won
three or four rings with them, and he hasn't. That kind of disturbed me
. . . He shouldn't put himself in that category, like he's been there
the whole time. He's got to earn it."
*****

Cashman wasn't interested, Wells said. In March 2003, Cashman said Wells
"did tarnish the Yankee image" with his book. Wells was fined $100,000
by the team.

"I said, `If there was any interest, I'd love to come back to New York
and play,' " Wells said. "Brian told me, `We'd love to have you, but the
Boss is looking in the other direction. We're going to go with youth
this year.' They turn around and sign [41-year-old] Randy [Johnson].
What part of that I didn't get I don't know.
*****

Wells is here, he said, because "when you want to go out, you want to
go out on top. I thought this was probably the best team out there to
win."

In fact, Wells claims he picked the Sox to win the World Series prior to
last season, citing the team's pitching staff as his rationale.

"I should've put some money down on it, huh?" Wells said.
*****

"I'll enjoy it," he said of the notoriety. "I'll push it aside. Like I
said, I can overcome all those things. I overcame a lot of things in my
life, and I still go out between the lines. That is my sanctuary. I have
fun. I'm like a kid out there.

"I want to go out on top. I'm not going to let anything stop me."

About Me
Hoothehoo
A Sox Fanatic
A Patriots Fan
A New Englander
What Else is there?
********************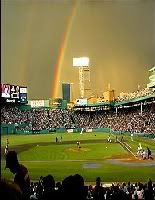 Archives
News Links
Bill Simmons-The Sports Guy
Boston Globe
Boston Herald
The Boston Red Sox Site
espn
mlb.com
NESN
The Pawtucket Red Sox
Providence Journal
The Remy Report
The Sporting News
Sports Illustrated
Tom Boswell
Fan Boards
Sons of Sam Horn
The Cardiac Kids
NYYFans.com
Surviving Grady Board
Fan blogs
Baseball Desert
Basegirl
Blue Cats and Red Sox
Cursed to First
Firebrand of the AL
Joy of Sox
Keys to the Game
Platooned
The Professional, the Idiot and the Tailback
Red Sox Wire
Sass-A-Thon
Singapore Sox Fan
Soxaholix
Surviving Grady
Tao of Manny
Wallball Single
Player Sites
Johnny Damon
Manny Ramirez
Pats Links
The New England Patriots
NFL.com
Others of Interest
ALCS - SOSH vs NYYFans
The Baseball Almanac
Curt's Pitch For ALS
The SHADE Foundation
The Win It For Thread
Books on the Shelf
Big Book of Baseball Lineups
Faithful
Feeding the Green Monster
The Teammates
Ted Williams
Watching Baseball
Why Not Us
DVD's in the Player
21
2004 World Series
Boston Red Sox 100 Years of Baseball History
Boston's Greatest Sports Stories Beyond the Headlines
Cowboy Up
Faith Rewarded
Still We Believe
Superbowl XXXVI
Superbowl XXXVIII
Credits
design by maystar
powered by blogger