Pair of great articles on Manny today in the Herald today.

A Good Humor Man


FORT MYERS - Manny Ramirez was at his locker, smiling, laughing, joking, apprising one Boston print reporter of his offseason exploits in Brazil and Argentina, when ESPN baseball analyst Peter Gammons approached and asked for a moment of the slugger's time.
``Sure, no problem,'' Ramirez said, excusing himself. ``You want to go get a donut?''
Go get a donut? Like at Krispy Kreme?
``It was really great for me,'' Ramirez said after the workout. ``If I knew a long time ago that it would be so good, I would have done it sooner. I really didn't hate the media. I just wasn't comfortable with my English.'
Red Sox slugger happy Manny -- WS MVP finds comfort zone
FORT MYERS - Manny Ramirez didn't pause yesterday, when asked if he'd set any goals for 2005.
``I'm thinking, maybe, an average of .275 with 25 homers and, maybe, 100 RBI,'' he replied. ``Yeah, that's my goal.''
On hand for the Red Sox first day of full-squad workouts, Ramirez tried to suppress a smirk when told his averages during his first four seasons in Boston - .321, 38 1/2 home runs and 116 1/2 RBI - were far higher than what he'd set for the upcoming year.
``I know,'' he said with a widening grin. ``But this way I'm going to feel good about myself when I reach them.''
``I told my mom I don't care about winning a regular-season MVP,'' Ramirez said. ``I want to win it in the postseason because that means we won.''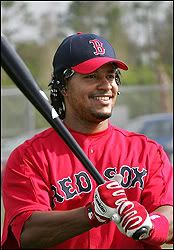 Just look at that smile! And the hair beads! (I love the hair beads!). Can I just say once again - Thank GOD we didn't trade our Manny for *shudder* Arod. Mr Huggy vs Mr Slappy. No contest.