Apparently yesterday was MannyDay. Today the papers go with Bellhorn.

The Globe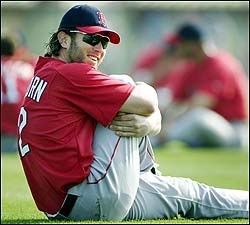 Loud and Clear
Why express in more words what can be conveyed with one? Or, what can be conveyed with one swing of the bat?
"He's quiet," said Johnny Damon. "He's a gentleman. The rest of us aren't."

Little seems to have changed this spring about Bellhorn. He still doesn't say boo, though Kevin Millar, who brought Manny Ramirez out of his shell last season, is working to do the same with the placid Bellhorn.

"Millar wants me to be a little louder," Bellhorn said. "I'm going to be a little tougher [than Manny]."
The Herald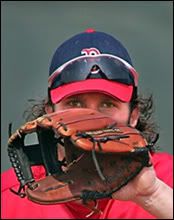 Mark of a Winner
``I called my buddy, Jamie Quirk, in Colorado and said, `Jamie, you've got to help me,' '' Francona said, referring to the Rockies coach. ``I said, `This guy hates me. He won't even talk to me!' Jamie started laughing like hell. He said, `Don't worry, he just doesn't talk. We called him Mute.' That made me feel better.''

Entering his second season with the Sox, the second baseman still doesn't say much but if actions truly speak louder than words, he's about as loquacious as Winston Churchill.
Success and a World Series title haven't exactly made Bellhorn verbose but that's just fine with his manager.

``He's himself and you've got to be true to yourself,'' Francona said. ``He just comes to the ballpark and gives you everything he has. Players appreciate that. I know I do.''