As we all are. In truth, it's a little early to be complaining about winter. A perfectly sensible arbitrary rule of thumb is that you're not allowed to complain about winter until March 1, which, stretching things a bit, is sort of the beginning of the end for winter - if we're lucky. But, in fact, there comes a time every winter when a switch turns on, the last snowfall feels like just about all you need, and it's time to move on.

It's time to move on.
Some Count Only 3 Seasons: Fall, Winter and Baseball

About Me
Hoothehoo
A Sox Fanatic
A Patriots Fan
A New Englander
What Else is there?
********************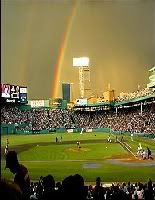 Archives
News Links
Bill Simmons-The Sports Guy
Boston Globe
Boston Herald
The Boston Red Sox Site
espn
mlb.com
NESN
The Pawtucket Red Sox
Providence Journal
The Remy Report
The Sporting News
Sports Illustrated
Tom Boswell
Fan Boards
Sons of Sam Horn
The Cardiac Kids
NYYFans.com
Surviving Grady Board
Fan blogs
Baseball Desert
Basegirl
Blue Cats and Red Sox
Cursed to First
Firebrand of the AL
Joy of Sox
Keys to the Game
Platooned
The Professional, the Idiot and the Tailback
Red Sox Wire
Sass-A-Thon
Singapore Sox Fan
Soxaholix
Surviving Grady
Tao of Manny
Wallball Single
Player Sites
Johnny Damon
Manny Ramirez
Pats Links
The New England Patriots
NFL.com
Others of Interest
ALCS - SOSH vs NYYFans
The Baseball Almanac
Curt's Pitch For ALS
The SHADE Foundation
The Win It For Thread
Books on the Shelf
Big Book of Baseball Lineups
Faithful
Feeding the Green Monster
The Teammates
Ted Williams
Watching Baseball
Why Not Us
DVD's in the Player
21
2004 World Series
Boston Red Sox 100 Years of Baseball History
Boston's Greatest Sports Stories Beyond the Headlines
Cowboy Up
Faith Rewarded
Still We Believe
Superbowl XXXVI
Superbowl XXXVIII
Credits
design by maystar
powered by blogger