The dueling player articles continues. A few days ago, we had MannyDay. Then it was Bellhorn's turn. Today, it appears to be our veterin knuckleballer, Tim Wakefield.
The two articles even feature the same picture.



The Globe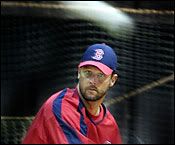 Wakefield's is gripping story
To the Sox, Wakefield is just one of those gifts who keep on giving -- another dozen wins and 30 starts last season for the stat-minded, who should also know that with another 10 wins this season, Wakefield will vault to third place on the team's list, trailing only a guy named Cy Young and a guy (Clemens) who has won more of Cy Young's awards than any pitcher, living or dead.

But his value to the club is measured in so many other meaningful ways, on and off the field. We'll give you two. Game 3 of the ALCS, Wakefield pitches 3 1/3 innings of relief in a 19-8 blowout loss to the Bombers that costs him a scheduled start in Game 4 but saves the bullpen to live another day.

"We had to get through that night before we could play the next night," he said yesterday. "When you're in the heat of the moment, you try to do what you think is the right thing to do."

That was on the field. Just days after the Sox won the World Series, Wakefield was in Portland, Maine, fulfilling a promise to a friend: Singer-songwriter Cindy Bullens, who lost her 11-year-old daughter, Jessie Bullens-Crewe, to Hodgkin's Disease, was having a concert to benefit the Jessie B-C Fund as well as the Maine Children's Cancer Center, and Wakefield showed up, guitar in hand. He played with her band, then took the mike and let them back him up while he sang the Eagles' "Take It Easy."
The Boston Herald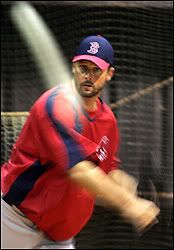 Wake Might Be Next
The Red Sox went from Ted Williams to Carl Yastrzemski to Jim Rice to Clemens, degrees of separation that connected 1939 to 1996. Then Clemens hit the road and Mo Vaughn followed, and at the trading deadline last season, Garciaparra was traded away by a 30-year-old general manager who grew up in the shadows of Fenway Park.

During that brief span of time, the Red Sox went from a locally owned business to a corporate machine, a change that was both necessary and inevitable. Sox management has performed miracles with Fenway Park and brought Boston baseball into the 21st century, producing more spin-off ventures than "All in the Family."

Still, it is difficult to think that we have not lost at least a little bit of something here. Among current Red Sox players, Wakefield is the team leader in continuous service time. Wakefield looks to be in great shape - he resumed the training regimen he employed before 2002 and 2003, when he was a combined 22-12 with a 3.52 ERA - and he has accepted pitching out of the rotation or bullpen, the latter where he could end up again at some point this season.
Along the way, we can honestly say we got to know him, and opportunities of the like are becoming more and more rare.
The Herald even has a bit on the other side of the battery with an article on
Doug Mirabelli
"There's something about me and 'Tek being together," Mirabelli said. "It's a relationship that's worked well. We've got such mutual respect, let alone being really good friends. Our families go out and eat dinner together. It's that kind of relationship."