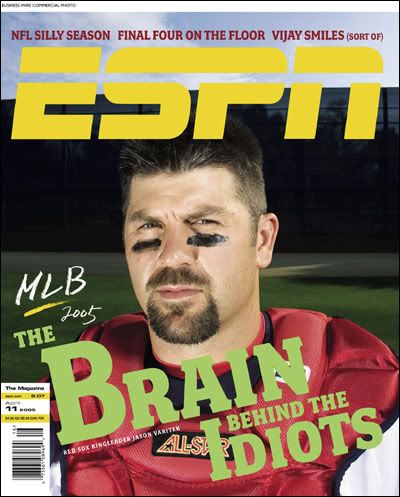 No words necessary.

pic from boston.com

Someday, I will get here.

Going the Distance


DYERSVILLE, Iowa -- More than 15 years after Ray Kinsella built it, people still come.

Just like Shoeless Joe Jackson, throngs of baseball fans -- 65,000 a year -- are drawn to this city to see the ballpark Kevin Costner's character built in a cornfield in the 1989 movie ''Field of Dreams."
I read (and reread to tatters and had to buy a second copy)
the book
many years before the movie came out. Both are two of my favorite sports creative works I have ever experienced.
And someday,
my dream
of getting there will be realized.
Evan and his Firebrand of the American League has moved and now can be found here. Link has been changed in my sidebar.

Evan is also calling for question submissions here

I'll quote a bit
Will Carroll has given me the opportunity for Red Sox Nation to ask him questions! Will Carroll is the author of a new book - "The Juice: The Real Story of Baseball's Drug Problems" and is also an expert on injury - if a player is subsceptible to injuries and what not. He writes for Baseball Prospectus and blogs at Baseball Toaster. Here's your chance to ask him ANY question. Have a question about steroids? Injuries? Anything in general? Leave a comment and talk about it…
So. Any burning questions? See Evan.
I'm a bit of a compulsive shutterbug (you should see how many rolls of pictures I come home from trips with) and I also love experimenting with differnt angles and framing techniques and lighting and subject matter and etc.

That said, I found some of these wonderful and fascinating. Thanks to Amy on the SGMB for the link.

You know what would be great? If SI/MLB/someone had a project where they gave one player (at least) on every team a camera and had them going around taking Day in the Life pictures. Can you imagine what a Kevin Millar could do?

Man, Id pay money to see that.

He loves Boston's Idiot Club For Men.

"I tried going back [to New York], but I'm glad I got this uniform on," he said. "It's a thing of beauty over here. You can't get that in New York, but you can get it here and that's why guys are the way they are here. I'm on cloud nine over here. I could have dealt with this for a long time. It's a lot of fun . . . I had a bad day today and guys are cutting up already. Some guys can handle it. I don't know if Kevin Brown can. Coming in here, it's like I've been here 20 years."
Lefty Loose
Said general manager Theo Epstein when asked about adding a potentially abrasive personality to the Sox clubhouse: ``What, we don't have any guys like that already?''
Looking back, maybe the young GM was onto something. Wells has been nothing short of a surgeon during a career in which he has won 212 games. Now he resides in a Red Sox clubhouse where there are, perhaps, more people like him than ever before, where he is no longer an outcast as much as he is just another one of the boys.
And lest anyone forget, he wins.
This might actually work out.
Good article on Timlin in The Globe today.

Timlin Stands Tall


Funny how far faith, a mother's love, and a survivor's instinct can take a man. The White House? Hey, that was a great day, don't misunderstand. Timlin couldn't have stood much taller than he did that afternoon, when George W. Bush saluted a fellow Texan. But if you really want to take the measure of the man, beyond the fact that this is his 15th year in the big leagues and he has pitched for a half-dozen teams and has three World Series rings and has appeared in more games than all but 26 pitchers in big-league history, you'd do well to recall what Red Sox manager Terry Francona said earlier this spring.

"I know Foulkey's our closer," Francona said, referring to Keith Foulke, "but this has been Timlin's bullpen. He kind of leads that bullpen. He'll take the ball any day you give it to him, even when he shouldn't. You have to be careful of that, but it's also a real compliment for a guy when I say that."
They have a name for Timlin in the Sox bullpen. They call him "Captain," not in a formal, Jason Varitek sort of way, maybe even with a touch of old-goat teasing in there, but also because he's as steady as they come.
They said he had no guts in Baltimore," a veteran major league scout said here yesterday. "Nobody in Boston says that, do they?"
No, we don't.
Fenway lives!

And I have to say I couldn't be happier. I love that park. And yes. I have been there. In fact, I go to a dozen or more games a year. I've sat in almost every section of the park. Still working on a couple. *knocks wood about Green Monster lottery*. And I love every bit. OK the right field grandstand's could be improved, which actually is a possibility. And I find it so easy to get to. Yes really. And I don't pay $40 for parking either.

And you can't rebuild history. The red seat. The Wall. The Pesky Pole. The scoreboard. The Morse Code. The CitGo sign and the view of the Pru. You can try to duplicate, but it would only be a pale copy.

I'll tell you one thing. When I go to a game, I get there, go in the gate. Enjoy the Yawkey Way Fest (thanks, Owners). And then I use the rest room, get something to eat and drink. And then I find my seat, sit, and then I don't move the rest of the game. I don't need any fancy diversions, any special concessions (although thanks for the right field concourse. Good stuff.) or any of that stuff people say Fenway lacks. I go to watch a game, and to soak up the ambiance and atmosphere. And Fenway has that in spades.

You know. In my neck of the woods, there are lots of beautiful beach cottages and houses in the woods. And people come in, buy them up, tear them down and build McMansions. And I can't help feeling something's been lost in the process.

Judging by the second photograph here , Bronson should be the one wearing David Wells' hat.

(Thanks to Annette on the Surviving Grady Message Board for the link.)

Dick Radatz, whose towering presence and 95-mile-per-hour fastball made him baseball's most dominant relief pitcher in the mid-1960s and earned him the unforgettable nickname of "The Monster" in Red Sox lore, died yesterday when he fell down a flight of stairs in his home in Easton, according to police.
I wasn't old enough to see him play, but all that I've read and seen show that he will be missed.
On the way home from work today, they had Johnny Pesky on the radio, talking to him about his memories of Radatz. He was telling wonderful stories in incredible detail about things that happened 40 years ago. I can't even remember all I did last week.
Johnny is an absolute treasure. We as Red Sox fans are truly blessed.
Whatever you do, don't drink and read this at the same time. A definite Hazard For Your Keyboard(tm).

Because of this, John Flahrety will be hereafter known in my house as "Dobby".



A bit more news on Tedy Bruschi here

I almost find this less scary than the previous news. I mean, the heart is easier to fix than the brain, right?



My Stop and Shop got the Hood Red Sox ice cream last week.

They are as follows:



Comeback Caramel - Chocolate and Caramel Socks with thick caramel swirled with caramel ice cream.



Fenway Fudge - Chocolate and fudge socks swirled with fudge in chocolate ice cream.


Green Monster Mint - Chocolate and mint socks swirled with thick fudge in mint ice cream


Peanut Butter Nation - Chocolate and peanut butter socks swirled with thick fudge in vanilla ice cream.

You can see pictures of them here

I'm going to try each. As soon as I have room in my freezer by finishing off the ice cream already in there. BTW? Turkey Hill Coconut Cream Pie Ice Cream is incredible. Just so you know.


In the Herald today.

FORT MYERS, Fla. -The "Queer Eye for the Straight Guy's" Fab Five will take on the Red Sox' Fab Six here today as Kevin Millar, Johnny Damon, Bill Mueller, Jason Varitek, Doug Mirabelli and Tim Wakefield line up for some serious tszujing.

The five stars of the hit Bravo reality show, Carson Kressley, Kyan Douglas, Ted Allen, Jai Rodriguez and Thom Filicia, are scheduled to descend on the City of Palms Park sometime after noon to begin making over the scruffy bunch of idiots who rode loosey-goosey attitudes and bad grooming all the way to the World Series last season.

But don't worry, gals. Damon will not be Sampson to Kyan's Delilah.

The caveman outfielder has a clause in his book contract that prohibits him being shorn until his new tome, "IDIOT: Beating 'The Curse' and Enjoying the Game of Life," is released.

"I think he told them they could trim it a little, but nothing dramatic," Sox spokesguy Glenn Geffner said. "The guys are being great sports about it though. Bill Mueller basically told them, 'Have your way with me.' "

Well! Don't let Carson hear that!

Anyway, the show will tape today, tomorrow and Wednesday at the Sox spring training facility. The guys will get new clothes, a grooming makeover, probably a few cooking lessons from Ted and Thom, the decorator, will work his magic on the clubhouse.

Jai, as usual, will be sensitive and supportive.

The Fab bunch were originally scheduled to overhaul only Millar, the red-neck Red Sox who has had some challenging hair issues over the past couple of seasons. But then Kevvie's teammates decided to get in on the action.

The show will air in June - possibly as the "Queer Eye" new season premiere. Do stay tuned. . . .
Have I mentioned I can't wait? This should be a total kick.
Gleaned from boston.com


The cover of the 2005 Red Sox media guide shows Doug Mientkiewicz leaping on top of a barely visible Jason Varitek and an obscured Keith Foulke, while Bronson Arroyo, Kevin Millar, Schilling, and Dave Roberts charge toward the celebration after Game 4 of the World Series. In an unusual twist, the club, next to a photo of the championship trophy, runs the following text: "This championship isn't just about these 25 guys. This is for every fan who has ever been to Fenway Park. This is for Johnny Pesky, Bobby Doerr, Dom DiMaggio and Ted. This is for Yaz and Lonborg, Tiant and Fisk, Evans and Rice. This championship is for everyone who came so close and for everyone who cared so much." Classy.
I can't wait.
Great article on Nomar today in The Herald.

A separate peace


"When you spend so much of your life in one place, it matters. As far as that city goes, those fans, they always embraced me," Garciaparra said before last week's exhibition against Texas. "I tried to do everything I could. I will always appreciate them.
"After everything that happened, I realized I have a big heart. There will always be a place for them there. Just because I'm not there doesn't mean I'll forget them. They were out there on my birthday, singing 'Happy Birthday.' Not just once, but every year. It was incredible. How many other players does that happen to?"
"I never watch the World Series. There are only two times I've watched the World Series. The last one (before 2004) was in 2000, because Jay Payton was my roommate in college, and he was my boy," Garciaparra said. "You have to watch your boys when they're in the World Series. I'm watching the Red Sox, and these guys are my boys, too. Pedro (Martinez) and D-Lowe (Derek Lowe ).
``When they were down, 3-0, to the Yankees, I told my friends that if the Yankees didn't sweep, the Sox were going to win it. They said, `How can you predict that?' and I said, `Because I know my boys."
Nicked the pic off of The SGMB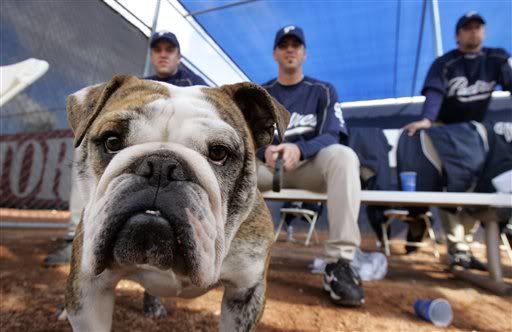 According to BC&RS his name is "Butter", he belongs to Padre Ryan Klesko and apparently likes hanging out in the bullpen. (Who can blame him.)

Personally, I think from certain angles he looks a bit like David Wells.

What do you think?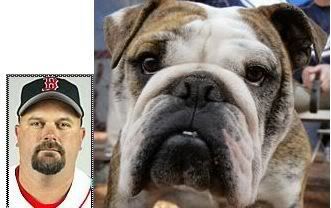 Wife's heart attack turned Pesky's smiles to tears



Ruthie Pesky, 82, was stricken last month. Johnny Pesky stayed at her side, missing the opening of spring training for the first
time in years. She's better now, and the Red Sox icon will be in Fort Myers on Monday.
Rather than have him face the Fab Five from Bravo's ``Queer Eye for the Straight Guy'' all by his lonesome, Kevin Millar's teammates have decided to help him out. Not only will Millar get a makeover, but Bill Mueller, Tim Wakefield, Doug Mirabelli, Varitek and yes, Damon will also participate. Carson Kressley, the most fabulous of the show's five hosts, will don a special pink Red Sox jersey to help him focus on his duties.
And Must Read Magazines

Yesterday, Johnny Damon posed for the cover of Sports Illustrated's upcoming baseball preview edition. Damon, who posed in home whites without his cap while a photographer's assistant waved a large placard so that Damon's flowing locks would appear in motion, will share the superimposed cover with the Yankees' Derek Jeter.

Damon, who went 1-for-3 with an error in yesterday's 7-4 victory over the Twins, is also on the cover of the current Sports Illustrated for Kids issue.
Also scheduled to be photographed soon for upcoming national magazine covers are Curt Schilling for The Sporting News' baseball preview issue and Jason Varitek for ESPN The Magazine. TV Guide is also planning to feature someone from the Red Sox for its issue scheduled around Opening Day.
Must Read Books
Damon, whose book ``Idiot: Beating the Curse and Enjoying the Game of Life'' is expected to hit bookstores in the coming days, followed up that photo shoot with another cover shot.
And a Must View Movie
Hollywood stars Drew Barrymore and Jimmy Fallon flew to Fort Myers last night and came directly to the visiting clubhouse at City of Palms Park, where Damon was waiting to join them for a photo session for an upcoming cover for Entertainment Weekly on Barrymore, Fallon and the Farrellys Brothers' ``Fever Pitch'' flick about an obsessed Red Sox fan.
Man, what a spring. And soon. Games! Games that count!
Life is rich when you're a Red Sox fan.
All info gleaned from
The Boston Herald
Nicked the url off of SOSH .

Great article in Newsday on Dave Roberts.

New England's Most Famous Run


And Dodgers general manager Paul DePodesta began speaking the consoling GM dialect that says we've found a good place for you - yeah, right - as the joy sapped out of Dave's expression and Tricia began saying, "Where? Where? Where?"

Dave mouthed the word "Boston," and that's when the crying started, and he would say, "It was a shock to all of us," and she would say, "It was a bad day. At the time we thought it was the worst thing that could have happened."
*****
"Until you put on that Red Sox uniform and experience those fans and that ballpark on an everyday basis . . .," he said and paused, then said, "It changed my whole attitude and perception. It became real. It's something I wish everybody who puts on a baseball uniform could experience. It would almost be a disservice for me to try to describe it."
*****
So the crestfallen Tampa-bound baseball player turned up in the 2004 Red Sox clubhouse, probably the best place for a crestfallen anybody to alight. He immediately noticed uncommon warmth. He saw a team that actually breakfasted and lunched together, and he'd eat with folks such as Gabe Kapler, Doug Mirabelli, Kevin Millar, Tim Wakefield.
*****
When Tricia went into labor in mid-September, a potential complication arose as the team found itself in Tampa and "I broke down at the ballpark," Dave said. "I was supposed to play that night. And the guys actually were there with me supporting me, and I'd just gotten there. Curt Schilling and Kevin Millar and Jason Varitek came in, and they said they arranged it so I could fly [a private plane] home."
*****
At six pounds, 12 ounces, Emme Roberts joined the world ultimately without complication on Sept. 19 - born in Boston, in the far-flung corner of the country.

Should she so choose 17 years from now, she might find herself the recipient of a scintilla of favoritism from various Boston-based college admission-board members.

That's because of the night of Sunday, Oct. 17.
*****
Go. Read. Enjoy. Remember.
Interesting blurb in Peter Gammon's latest column.

Lowe's teammate in Boston, Mike Myers, says he has an off day and is flying in to Boston for the ring ceremony at Fenway Park. "I'm really excited about being there. I will never forget that parade. People holding up pictures of their dead parents and grandparents and yelling, 'thank you.' I had tears in my eyes. It's a once-in-a-lifetime experience." Informed about Myers' decision, Lowe said, "I have the day off, and I want to be there so badly I may fly in from L.A. for the ceremony and fly back. To be there when those rings are handed out would be unbelievable."
I hope they both can make it. I'll never forget Myers coming on to strike out Matsui in game 5. Such an important out. But in some ways, DLo *was* the postseason for me. Man. Three wins in each of the three clinching games. Pitching in two elimination games against the Yankees. Pitching on *two days rest*. I don't know if I'll ever see a post season pitching accomplishment like that in a long long time. I hope the Sox and the Dodgers find a way to make it happen. I'd love to see DLo get his ring in front of a Boston crowd in Fenway park.
In fact. I hope they can get as many of the 04 Sox there for it as they can. I know a lot of them will be playing games for their own teams. But those who are retired, like Burks and Leskanic? Get them there. Pawtucket and Portland are close. Get people like Abe Alverez there. Anybody still unsigned? Ship them in. Can we borrow Gabe from Japan for a day?
Opening Day.
I can't wait.
Great article in today's Globe about Kevin Millar.


Character development


Kevin and his wife, Jeana, have wanted a child since late in Millar's days with the Florida Marlins. But they never could bridge the gap between that desire and deliverance. In late 2003, they turned to in vitro fertilization. But, 14 weeks along, in mid-April, two weeks into the last baseball season, season, Jeana miscarried.

"It was tough," Millar said last week. "It was tough because I knew how much she's been trying and wanting it. It was a tough time for a couple days, but I kind of kept that on the down low and kept going."

He kept going, but he hit .218 that month and never really flipped the switch until late July. As of July 20, he'd hit just five home runs with 25 RBIs.
Millar was home just a few weeks after the World Series. The family was gathered for Thanksgiving when the phone rang. Millar, like Doug Mientkiewicz, had stated he wanted to play full time, forcing the Sox to begin shopping one of the two.

His agent had this question: In case you are traded, where would you prefer to go?

"You sit there and go, 'Huh? Where do I want to go?' " Millar said. "I'm from California. I grew up in Los Angeles. Dodgers? Padres? The Giants?' I'm sitting here going, `There's not a team in this world that I could tell you I want to go to that could bring a smile to my face.

"Not the Houston Astros, not the Rangers, where I live now. I don't want to go anywhere. I want this not to happen. I feel that I've played in Boston my whole career. I was petrified."

Said Judy Millar: "When he said, `I'd rather stay with Boston,' that's when I knew this guy is a diehard, not even to want to come home. He was scared."
The way Millar sees it, he doesn't have Alex Rodriguez's Inspector Gadget tools, Gabe Kapler's slingshot right arm, or Dave Roberts's pistons. What he has is the ability to help turn a band of cowboys and idiots into a symphony.

"I'm not blessed with any ability that is outside of the norm," he said. "All the tools they talk about, like I always say, I don't have a toolbox, but I do love this game more than anybody.

"Manny can hit the ball anywhere he wants. My tool? I love my teammates. I love my clubhouse. I love just hanging out, and soaking all of this in, because it's such a short career.

"This is a dream. You have to be thankful and appreciate this. And I don't think enough guys do. You're in this little fantasy world. Any chance you get, you've got to have fun, and I think that's what I do. How can you have a bad day in the major leagues? Seriously, how can guys come in miserable and angry?"
He will stay in, or around baseball.

"If I have to hit fungos somewhere," Millar said, "I'll hit fungos."

For now, he'll put off being Johnny Pesky and keep on being Kevin Millar.

"All I want to do is enjoy this year," he said. "All I can hope is that Theo and the Red Sox keep me. I would definitely want to play here the rest of my life, as long as they want me. Can it possibly be [my last year here]? Yeah, of course. If somebody wants some different first baseman, then yeah, I'm gone.

"I'm going to do everything in my power to stay here."
All this and more, to be found on the Globe Site.
One more quote.
They were on the phone last week when one of them mentioned a make of candy sold only in California.

"He goes, `Momma, please send it overnight. That sounds so good,' " Judy said.

She complied. The box of chocolates cost $12, the shipping $40. The chocolates arrived in the mail Tuesday, packaged with a Playboy magazine, and a note, saying he'd have something to read while eating his chocolate.
What a great Mom.
The Garden has returned. In name anyway. I think I like it. It's not "The Boston Garden", but it can be shortened to The Garden. And they're right. Much better than a Center.

The deal ends the whimsical auction of daily naming rights on eBay that resulted in the building being named -- officially, if not in actual usage -- such things as the KurtCenter, the JoeyColinAbbyCenter and the Nocturnal Nannies Arena for 24-hour periods over the past month.

One New York lawyer's bid to name the arena for New York Yankees' star Derek Jeter was derailed after his friend chipped in and they agreed to name it the "Jimmy Fund Center," after the Boston-based cancer charity.

The auctioning raised more than $150,000 for charity over three weeks.

The last of those auctions, for March 13 rights, ended Thursday morning. It was not immediately known what the arena would be called between March 13 and July 1, when it assumes the TD Banknorth name
I think we should call it "Fred".

Don't our boys clean up nice?
First the owners attend the
Jackie Robinson Medal Ceremony
.
Then the entire team make a
trip to the White House
for the traditional
Champion Of Whatever Sport Has Photo Op On South Lawn.
Then a
trip to Walter Reed Hospital
to visit with the Soldiers. (Tissue alert for this one.)
And on another note, I need
this book
.
I'm still poking around The Daily News when I find this


TAMPA - After pitching two innings in yesterday's intrasquad game, Kevin Brown said that his body feels as good as it has since he joined the Yankees last winter.

"I'm not throwing up against a brick wall right now like I did all the time last year," the 39-year-old righty said.
Um. Kevin? You might want to avoid wall references for a while. Just a small piece of advice.
Nice article about Theo today in the NY Daily News, of all places.

Now, "they'll probably build a monument in Boston for him," Yankees GM Brian Cashman says. "He's got to be one of the most famous people in New England, when you're the guy who brings that to an end."
*does a solo conga line-like dance*

My tickets came today, yeah!
My tickets came today, yeah!
My tickets came today, yeah!


And they're so pretty with a shiny shiny trophy pic.

Also of the pretty, the pocket schedule with a huggy leapy Tek and Foulk.

Whee! Tickets!






About Me
Hoothehoo
A Sox Fanatic
A Patriots Fan
A New Englander
What Else is there?
********************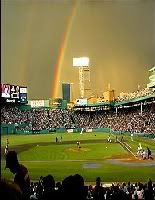 Archives
News Links
Bill Simmons-The Sports Guy
Boston Globe
Boston Herald
The Boston Red Sox Site
espn
mlb.com
NESN
The Pawtucket Red Sox
Providence Journal
The Remy Report
The Sporting News
Sports Illustrated
Tom Boswell
Fan Boards
Sons of Sam Horn
The Cardiac Kids
NYYFans.com
Surviving Grady Board
Fan blogs
Baseball Desert
Basegirl
Blue Cats and Red Sox
Cursed to First
Firebrand of the AL
Joy of Sox
Keys to the Game
Platooned
The Professional, the Idiot and the Tailback
Red Sox Wire
Sass-A-Thon
Singapore Sox Fan
Soxaholix
Surviving Grady
Tao of Manny
Wallball Single
Player Sites
Johnny Damon
Manny Ramirez
Pats Links
The New England Patriots
NFL.com
Others of Interest
ALCS - SOSH vs NYYFans
The Baseball Almanac
Curt's Pitch For ALS
The SHADE Foundation
The Win It For Thread
Books on the Shelf
Big Book of Baseball Lineups
Faithful
Feeding the Green Monster
The Teammates
Ted Williams
Watching Baseball
Why Not Us
DVD's in the Player
21
2004 World Series
Boston Red Sox 100 Years of Baseball History
Boston's Greatest Sports Stories Beyond the Headlines
Cowboy Up
Faith Rewarded
Still We Believe
Superbowl XXXVI
Superbowl XXXVIII
Credits
design by maystar
powered by blogger