Great article in today's Globe about Kevin Millar.


Character development


Kevin and his wife, Jeana, have wanted a child since late in Millar's days with the Florida Marlins. But they never could bridge the gap between that desire and deliverance. In late 2003, they turned to in vitro fertilization. But, 14 weeks along, in mid-April, two weeks into the last baseball season, season, Jeana miscarried.

"It was tough," Millar said last week. "It was tough because I knew how much she's been trying and wanting it. It was a tough time for a couple days, but I kind of kept that on the down low and kept going."

He kept going, but he hit .218 that month and never really flipped the switch until late July. As of July 20, he'd hit just five home runs with 25 RBIs.
Millar was home just a few weeks after the World Series. The family was gathered for Thanksgiving when the phone rang. Millar, like Doug Mientkiewicz, had stated he wanted to play full time, forcing the Sox to begin shopping one of the two.

His agent had this question: In case you are traded, where would you prefer to go?

"You sit there and go, 'Huh? Where do I want to go?' " Millar said. "I'm from California. I grew up in Los Angeles. Dodgers? Padres? The Giants?' I'm sitting here going, `There's not a team in this world that I could tell you I want to go to that could bring a smile to my face.

"Not the Houston Astros, not the Rangers, where I live now. I don't want to go anywhere. I want this not to happen. I feel that I've played in Boston my whole career. I was petrified."

Said Judy Millar: "When he said, `I'd rather stay with Boston,' that's when I knew this guy is a diehard, not even to want to come home. He was scared."
The way Millar sees it, he doesn't have Alex Rodriguez's Inspector Gadget tools, Gabe Kapler's slingshot right arm, or Dave Roberts's pistons. What he has is the ability to help turn a band of cowboys and idiots into a symphony.

"I'm not blessed with any ability that is outside of the norm," he said. "All the tools they talk about, like I always say, I don't have a toolbox, but I do love this game more than anybody.

"Manny can hit the ball anywhere he wants. My tool? I love my teammates. I love my clubhouse. I love just hanging out, and soaking all of this in, because it's such a short career.

"This is a dream. You have to be thankful and appreciate this. And I don't think enough guys do. You're in this little fantasy world. Any chance you get, you've got to have fun, and I think that's what I do. How can you have a bad day in the major leagues? Seriously, how can guys come in miserable and angry?"
He will stay in, or around baseball.

"If I have to hit fungos somewhere," Millar said, "I'll hit fungos."

For now, he'll put off being Johnny Pesky and keep on being Kevin Millar.

"All I want to do is enjoy this year," he said. "All I can hope is that Theo and the Red Sox keep me. I would definitely want to play here the rest of my life, as long as they want me. Can it possibly be [my last year here]? Yeah, of course. If somebody wants some different first baseman, then yeah, I'm gone.

"I'm going to do everything in my power to stay here."
All this and more, to be found on the Globe Site.
One more quote.
They were on the phone last week when one of them mentioned a make of candy sold only in California.

"He goes, `Momma, please send it overnight. That sounds so good,' " Judy said.

She complied. The box of chocolates cost $12, the shipping $40. The chocolates arrived in the mail Tuesday, packaged with a Playboy magazine, and a note, saying he'd have something to read while eating his chocolate.
What a great Mom.

About Me
Hoothehoo
A Sox Fanatic
A Patriots Fan
A New Englander
What Else is there?
********************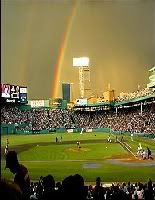 Archives
News Links
Bill Simmons-The Sports Guy
Boston Globe
Boston Herald
The Boston Red Sox Site
espn
mlb.com
NESN
The Pawtucket Red Sox
Providence Journal
The Remy Report
The Sporting News
Sports Illustrated
Tom Boswell
Fan Boards
Sons of Sam Horn
The Cardiac Kids
NYYFans.com
Surviving Grady Board
Fan blogs
Baseball Desert
Basegirl
Blue Cats and Red Sox
Cursed to First
Firebrand of the AL
Joy of Sox
Keys to the Game
Platooned
The Professional, the Idiot and the Tailback
Red Sox Wire
Sass-A-Thon
Singapore Sox Fan
Soxaholix
Surviving Grady
Tao of Manny
Wallball Single
Player Sites
Johnny Damon
Manny Ramirez
Pats Links
The New England Patriots
NFL.com
Others of Interest
ALCS - SOSH vs NYYFans
The Baseball Almanac
Curt's Pitch For ALS
The SHADE Foundation
The Win It For Thread
Books on the Shelf
Big Book of Baseball Lineups
Faithful
Feeding the Green Monster
The Teammates
Ted Williams
Watching Baseball
Why Not Us
DVD's in the Player
21
2004 World Series
Boston Red Sox 100 Years of Baseball History
Boston's Greatest Sports Stories Beyond the Headlines
Cowboy Up
Faith Rewarded
Still We Believe
Superbowl XXXVI
Superbowl XXXVIII
Credits
design by maystar
powered by blogger