This morning, the following was the entire text of the Providence Journal's sports front page.

There's a guy who hawks T-shirts and hats in the Yankee Stadium parking lots. Whenever the Red Sox came to town, his inventory consisted of "1918" baseball caps and "Killer B's: Babe, Bucky, Buckner, Boone" T-shirts.

He went out of business last October. So did everyone else who hitched their financial wagon to the "Curse Of The Bambino."

Welcome to baseball's new reality. In 2004, the Red Sox did more than win a World Series for the first time in 86 years. They destroyed a cottage industry, pulled the plug on decades-old taunts -- never again will we hear the chant "NINE-TEEN! EIGHT-TEEN!" -- and changed the sport's very culture.

Wile E. Coyote caught the Roadrunner. Nothing will ever be the same.

And now the Red Sox face a whole new challenge: Living life as the hunted, rather than the hunter. Trying to defend, rather than seek, a crown.

Today we look at the '05 Sox, along with the rest of the teams in baseball. Tomorrow we'll examine the new Red Sox-Yankee dynamic.

And then the new season -- and the new world order -- begins.
And it will begin. Tomorrow (barring inclement weather). And it begins like no other in my memory. I still smile at random moments. Have you seen that McDonald's commercial? That's me. I'm excited and anticipatory and happy and nostalgic and impatiant and looking forward to warm summer evenings filled with Red Sox baseball. But for the first time, I no longer feel anxiaty. And it's an amazing thing.
A few takes, from a few angles.
More Than a Game
(Three Tissue Alert)
The Yankee-Red Sox rivalry is much more than the oldest, strongest, most intense clash in American sports. It's a tapestry of generations, linked by heartache and hope. It's a decades-long soap, the characters cloaked in pinstripes or solid gray. It's balls ping-ponging around the lyrical bandbox in Boston's Back Bay, and legends growling in Monument Park. It's Babe Ruth and Harry Frazee, Joe D. and Teddy Ballgame. It's Bucky Dent lean, lean, leaning; it's Roger Clemens, in a Yankee cap, taking a bow before the Fenway faithful; it's Aaron Boone, stealing Dent's vulgar faux middle name.

It's scalding passion, often producing history at its rawest. It can be both vile and sweet, emotions flittering with one swing of the bat. It used to be 26 World Championships and chants of "1918," but not anymore. It's an obsession, one that digs into your soul and stays there for eternity. It abides through strikes, steroids, scandals and war. If the rivalry ceased to exist, the Eastern seaboard might as well close its shutters for the summer.
A New Battle Is About to Begin
We know it will be special. If the last two years - or 25, or 50, or 90 - have taught us anything, that is it. If we can dream it, the Yankees and the Boston Red Sox can do it. What it is, we don't know. Neither do they. But starting tonight, there will be more moments for the ages, more questions in which the context is forever understood.
Chapter 102
I'm not even sure what that means. Somehow, it makes sense. I spent my winter secretly hoping that the steroids saga would morph into a prolonged, unexpected lockout, just to give me more time to appreciate what happened. It was too improbable, too surreal, too magnificent. On Oct. 16, the Sox were getting last rites. On Oct. 27, they were pouring champagne in St. Louis. Remember the book "Thirteen Days," the one about the Cuban Missile Crisis? This one could have been called "Twelve Days." In eight games over 12 days, everything changed
Play Ball.

About Me
Hoothehoo
A Sox Fanatic
A Patriots Fan
A New Englander
What Else is there?
********************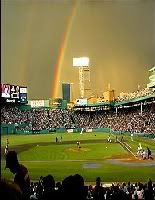 Archives
News Links
Bill Simmons-The Sports Guy
Boston Globe
Boston Herald
The Boston Red Sox Site
espn
mlb.com
NESN
The Pawtucket Red Sox
Providence Journal
The Remy Report
The Sporting News
Sports Illustrated
Tom Boswell
Fan Boards
Sons of Sam Horn
The Cardiac Kids
NYYFans.com
Surviving Grady Board
Fan blogs
Baseball Desert
Basegirl
Blue Cats and Red Sox
Cursed to First
Firebrand of the AL
Joy of Sox
Keys to the Game
Platooned
The Professional, the Idiot and the Tailback
Red Sox Wire
Sass-A-Thon
Singapore Sox Fan
Soxaholix
Surviving Grady
Tao of Manny
Wallball Single
Player Sites
Johnny Damon
Manny Ramirez
Pats Links
The New England Patriots
NFL.com
Others of Interest
ALCS - SOSH vs NYYFans
The Baseball Almanac
Curt's Pitch For ALS
The SHADE Foundation
The Win It For Thread
Books on the Shelf
Big Book of Baseball Lineups
Faithful
Feeding the Green Monster
The Teammates
Ted Williams
Watching Baseball
Why Not Us
DVD's in the Player
21
2004 World Series
Boston Red Sox 100 Years of Baseball History
Boston's Greatest Sports Stories Beyond the Headlines
Cowboy Up
Faith Rewarded
Still We Believe
Superbowl XXXVI
Superbowl XXXVIII
Credits
design by maystar
powered by blogger